There are still no signs the outbreak is close to coming under control.
Here are the latest official figures on virus cases in China from Caixin:
28,060 confirmed cases;

564 deaths;

24,702 suspected cases;

1,153 have recovered
Reuters reports that the leadership is now considering delaying the upcoming "Two Meetings" scheduled for early March and quotes an official saying the outbreak may still not be contained in a month - China may delay annual meeting of parliament due to virus outbreak:
"The focus remains on taking steps forward towards meeting on schedule, but we are discussing a range of options as the (virus) situation doesn't look likely to be contained by March," a senior government official told Reuters, declining to be identified given the sensitivity of the matter.
Social media is blowing up over the news that Wuhan whistleblower doctor Li Wenliang has died. This is from the Global Times, in a now deleted report:
Chinese doctor Li Wenliang, one of the eight whistleblowers who tried to warn other medics of the coronavirus outbreak but were reprimanded by local police, dies of coronavirus on Thursday in Wuhan, the Global Times has learned.
But in a morbid twist it appears that the relevant authorities, probably after seeing the online uproar, may not be allowing him to die officially yet. There has been quite the back and forth about whether or not he has actually passed. I saw reports from The Global Times, Caixin and The Beijing News that he had died; those are now gone. If they got it wrong then heads will role for making such a consequential "political error". But from other reports on Wechat it sounds like the order came from above to keep him "alive". It is all just so dark.
The reports of Li's death, true or not, are crystallizing deep anger and frustration. The Party's social contract with the people—-ensuring the people's well being and providing ever-increasing economic prosperity-is being stressed on a nationwide level in ways I don't recall in the past several decades. Last Friday I wrote that "this is as close to an existential crisis for Xi and the Party that I think we have seen since 1989", and I think it is even more so a week later.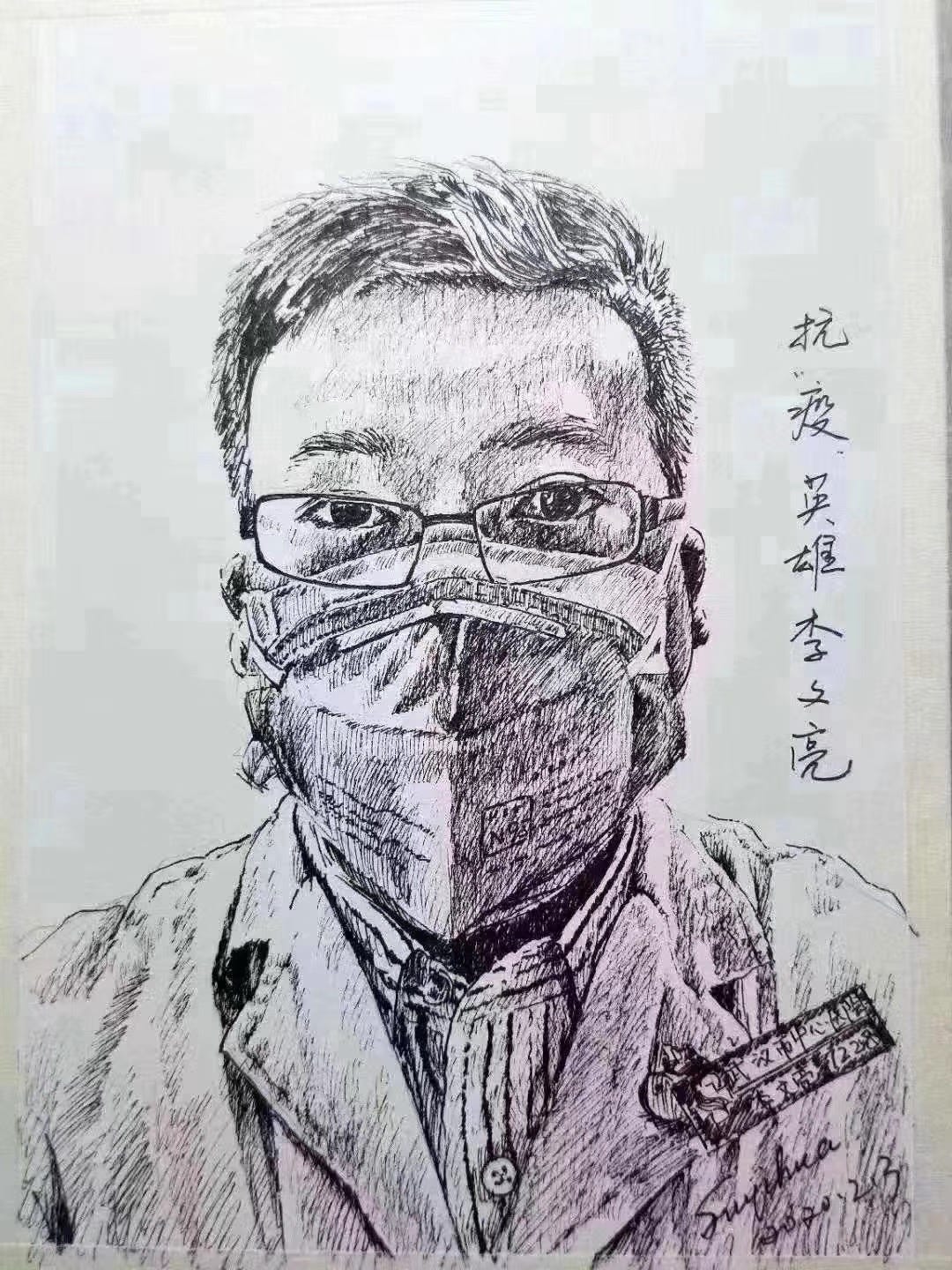 "Epidemic fighting hero Li Wenliang"
This is a long issue, I recommend you click on the headline at the top of the email to read it in your browser. Thanks for reading.
---
The Essential Eight
1. The outbreak
WHO says too early to say coronavirus peaking in China - Reuters
The World Health Organization (WHO) said on Thursday it was too early to say that China's coronavirus outbreak was peaking, but noted that Wednesday was the first day that the overall number of new cases in China had dropped.
Coronavirus epicenter faces severe test as actual number of infections still unknown - Global Times
The numbers of confirmed cases in Wuhan keep growing every day, which does not, however, reflect the whole picture as analysts do not know the exact number of infections. Medical supplies could not meet the rising demand for treatment, heavily weighing on the battle against the spread of the disease.

Currently, there are 28 novel coronavirus-designated hospitals with 8,524 beds in Wuhan. A total of 8,182 patients are in these hospitals, Hu Lishan, deputy Party secretary of Wuhan, said during a press conference.
Chinese vice premier stresses prevention, control of epidemic sources - Xinhua
Chinese Vice Premier Sun Chunlan on Thursday called for preventing and controlling epidemic sources in Wuhan, the epicenter of the novel coronavirus outbreak to ensure people's safety and health.

Leading a central government group to guide the epidemic control work, Sun, also a member of the Political Bureau of the Communist Party of China (CPC) Central Committee, stressed all-out efforts to search for, receive and treat patients confirmed or suspected to be infected with the virus, patients with fever, as well as close contacts of confirmed or suspected cases.
Thursday CCTV Evening News report on Sun's comments - 中央赴湖北指导组:以战时状态全力抓好源头防控 . She warned against bureaucratism and demand the officials to implement all the orders given and carry out their duties. "(You) must not be a deserter in a time of war, otherwise (you) will be nailed in history's pillar of shame"
Coronavirus Live Updates: China's Death Toll Soars as Wuhan Plans Roundup of Infected - The New York Times
A senior Chinese official has ordered the authorities in the city of Wuhan to immediately round up all residents in the city who have been infected with the coronavirus and place them in isolation, quarantine, or in designated hospitals.

Sun Chunlan, a vice premier tasked with leading the central government's response to the outbreak, said city investigators should go to each home to check the temperatures of every resident and interview infected patients' close contacts.

"Set up a 24-hour duty system. During these wartime conditions, there must be no deserters, or they will be nailed to the pillar of historical shame forever," Ms. Sun said.

The city's authorities have raced to meet these instructions by setting up makeshift mass quarantine shelters this week. But concerns are growing about whether the centers, which will house thousands of people in large spaces, will be able to provide even basic care to patients and protect against the risk of further infection.
Update: Wuhan Struggles to Hospitalize Thousands of Coronavirus Patients - Caixin
In the face of mounting demand from infected patients seeking treatment, the biggest challenge now is pressure for centralized treatment, said Hu Lishan, deputy secretary of the Communist Party's Wuhan Municipal Committee...

Under the strategy, authorities first seek to classify patients in one of four ways: confirmed patients, suspected patients, those suffering fevers and those who had intimate contact with an infected person. Once this is done, each category of person will be placed in a different location for concentrated treatment or quarantine. The goal is to prevent cross-infections between different groups, Hu said.
CCTV - 李克强主持召开中央应对新型冠状病毒感染肺炎疫情工作领导小组会议
The Central Leading Small Group for Work to Counter the New Coronavirus Infection Pneumonia Epidemic led by Li Keqiang held another meeting. The meeting called for sending more doctors to and building more hospitals in Wuhan. The meeting said outside Hubei the fatality rate has been low and the local governments should "rationally allocate the resources and avoid unnecessary panic." They can now "orderly resume normal production" as the holidays come to an end.
Coronavirus: Zhejiang adopts draconian quarantine measures to fight disease | South China Morning Post
In the Chinese coastal province of Zhejiang, some 560km (350 miles) east of where the new coronavirus originated, at least four cities have introduced measures that mirror the draconian rules established by Hubei province – epicentre of the outbreak – to keep the virus from spreading...

In the Zhejiang cities of Wenzhou, Hangzhou, Ningbo and Taizhou – which have a combined population of more than 30 million – each household is being issued a "passport", usually a piece of paper that carries one's name, home address and an official stamp. Only one person per household is permitted to leave their home every two days.
China's Nanchang city to limit access to villages, compounds to prevent virus spread - Reuters
The Chinese city of Nanchang, capital of Jiangxi province, will strictly monitor the entry and exit of residents from villages and residential compounds as it steps up its efforts to control the spread of a coronavirus outbreak.

The city, which has a population of 5 million people, said on its official Weibo social media account that each family should assign one member to go out once every two days, and that people running fevers must go to a medical facility.
Opinion: China's Battle Against Coronavirus Could Still Go Either Way - Caixin Global
At present, we still need to wait another week to see the results of the first stage of prevention and control measures. If there's no sign of a turning point, it means that the situation remains critical, and returning to life as normal — such as by reopening schools and workplaces — might only serve to continuously boost the number of second-generation cases.

Zhang Wenhong is the leader of a Shanghai medical treatment expert team targeting the new coronavirus, and director of the infection division of Huashan Hospital.
More Hubei cities to fall in crisis - Global Times
A meeting on Thursday of the Central Leading Group on Responding to the Novel Coronavirus Pneumonia Outbreak chaired by Premier Li Keqiang pointed out that cities other than Wuhan should build new hospitals to offer more beds. Support teams from 16 provinces will help ease the personnel shortage.

The Ezhou government issued an appeal letter on Wednesday, calling on all retired and former medical staff to return to their posts to fight the 2019-nCoV amid the aggravating pressure on medics.

"The prevention and control situation of the epidemic is very grim, as the city ranked second place in terms of infection and fatality rates in Hubei Province. The pressure on Ezhou's medical staff is already the highest in the province and even in the whole country," read the appeal letter published on Ezhou government's website.
病死率达4.25%超过武汉,湖北鄂州疫情防控压力大_腾讯新闻
the official mortality rate in Ezhou, Hubei is 4.25% 病死率达4.25%超过武汉,湖北鄂州疫情防控压力大 official tally of 423 cases, 18 deaths, population about 1/10 Wuhan's, medical infrastructure much worse
Questions Persist Over Coronavirus Fatality Rate - Caixin
Large differences in case fatality rates were more likely to reflect underlying biases in currently available data than "true" variations in the virus' deadliness, experts told Caixin.
CCTV short video on Wuhan the "hero city"
People's Daily commentary repeated Xi's instructions that all officials must thoroughly implement the policies and carry out their "territorial duties", making sure all individuals and travelers are properly monitored, so to prevent further transmission.
CCTV commentary also warned against "formalism" and "bureaucratism", and demanded officials to be more responsible for their jobs in virus control and implement the policies set by the center
Chinese people show patriotism in coronavirus fight: spokesperson - Xinhua
Spokeswoman Hua Chunying said at a press briefing online that sacrificing one's small family for the big family and putting the country before oneself has always been a spiritual hallmark of the Chinese nation and a strong bond uniting all Chinese people.
Virus-hit Wuhan speeds up diagnosis of patients - Xinhua
As of Monday, the novel coronavirus nucleic acid testing capability of Wuhan had been increased to 4,196 samples per day from the initial 200 samples.

Computed tomography (CT) imaging has also been added as an auxiliary testing method in Hubei, according to the latest diagnosis and treatment plan by the National Health Commission released Wednesday.
Under Quarantine, Huanggang Students Fret Over 'Gaokao' - SixthTone
with the all-important gaokao just 122 days away, many students, parents, and teachers in the region worry that lost class time now could mean lost points on the exam.
Medical staff fighting coronavirus experience mounting psychological problems - Global Times
"The epidemic has become a psychological burden for a lot of medical staff and ordinary people, and we have attached great importance on it," said Yang Fude, president of the Beijing-based Huilongguan Hospital, a psychiatric hospital, according to a document the hospital sent to the Global Times.
Chinese city accused of stealing virus masks from hard-hit neighbor - Reuters
The government of Dali city, in the southwestern province of Yunnan, was accused this week of making an "emergency requisition" of a shipment of masks bound for the hard-hit municipality of Chongqing, state media reported.
Medical expert Zhong Nanshan cautioned Chinese labs not to rush approving the medicine Remdesivir, which may be a cure for coronavirus. Zhong warned that some Chinese labs may want to skip the ethnic review process so to have clinical trials immediately. That must not happen, he said..
Coronavirus: the cost of China's public health cover-up | Financial Times "The Big Read"
The epidemic ranks as the biggest crisis to have hit Xi Jinping, China's Communist party leader, since he took power in 2012. Not only has the outbreak brought large swaths of the world's second-largest economy to a grinding halt, it also undermines the party's aura of competence...

the enormous human and economic costs of censorship — both for China and for the rest of the world — are starting to come into sharp relief. Several respected scientists have estimated that the true number of people infected by the coronavirus may be several multiples higher than the official figures from China suggest.
Hubei Daily reported that two doctors in Wuhan were awarded by the government for their dedication to the work, including one who it said first reported the coronavirus to upper authorities in late December. 
---
2. Internet media crackdown
China Clamps Down on Coronavirus Coverage as Cases Surge - The New York Times
In recent days, both state-run news media and more commercially minded outlets have been told to focus on positive stories about virus relief efforts, according to three people at Chinese news organizations who spoke on the condition of anonymity to discuss internal directives.

Internet platforms have removed a range of articles that suggest shortcomings in the Chinese government's response or are otherwise negative about the outbreak.

Local officials have also cracked down on what they call online "rumors" about the virus. China's public security ministry this week lauded such efforts
Internet Giants Warned Amid Coronavirus Crackdown | China Media Project
A notice issued yesterday by the Cyberspace Administration of China, the central agency for control of the internet and social media, provides a glimpse not just of the actions being taken now by the authorities to control information about the coronavirus epidemic, but also of the platforms and activities that have threatened the Party's dominance of information in recent days...

The notice also says that Sina Weibo, Tencent, ByteDance and other internet companies will now be under "special supervision" (专项督导), which means essentially that the companies operating many of the country's biggest and most popular internet platforms and services have been put on notice and are subject to much more active supervision and management by the CAC.
The CAC notice - 国家网信办指导有关地方网信办依法查处违法违规网站平台及账号
Translation: "Wuhan Police Said Don't Post, I Laughed With Tears in My Eyes" | China Digital Times (CDT)
According to a February 2 WeChat Moments post shared by an anonymous Wuhan resident, local police in Wuhan are issuing verbal warnings not to share information about the fallout of the disease and the city's current lack of resources to handle it. A screenshot of the Moments post has been archived and translated by CDT
The Ministry of Public Security gave awards to five policemen who "died in the frontline of epidemic-control". That includes one cyber police officer in Shandong who died after working long hours to monitor and delete "fake information" about the virus outbreak (8名警察在防疫一线牺牲)
Douban, a social media platform popular among young Chinese, has suspended its "journal" section, after many in Wuhan flooded to the website to write about their desperation
WeChat has issued a statement in Jan 26 warning that those who fabricate and spread rumors can receive sentence up to seven years. The company said it would start a "special cleaning program" for rumors related to the virus and accounts violating rules can be permanently shut.
Comment: There are reports going around that Tencent has shut down a large number of WeChat accounts for "spreading malicious rumors" about the coronavirus in the past two days. The move even made it to one of the most searched topics on Weibo - "微信封号超话". Deleting someone's WeChat account is the equivalent of digital death sentence in China, and given the current situation can have serious real life consequences as well.
---
3. Economic impact
Commodity Chaos Deepens as China LNG Buyer Invokes Force Majeure - Bloomberg
In a dramatic and rare step, China National Offshore Oil Corp. declared what's known as force majeure, meaning it won't take delivery of some LNG cargoes, because the virus is constraining its ability to import the fuel. It's among the first known cases of the legal clause being invoked in commodity contracts as a result of the epidemic...

China said last week that it would offer support to companies seeking to declare force majeure on international contracts. The clause allows a company to opt out of obligations without legal recourse because of reasons beyond its control.
Coronavirus outbreak dries up major Chinese cities' labor pools - Global Times
It is not exactly clear how much of the country's 288 million migrant workers, which account for one third of China's total labor force, remain stuck. But a labor shortage issue seems to be haunting major Chinese cities including Beijing, Shanghai, Guangzhou and Shenzhen, where demands for workers have been climbing in recent years amid boom of manufacturing and service sectors.

According to data released by Beijing's transportation authority on Tuesday, among the 10 million people that left the capital ahead of the Spring Festival holidays, 8 million still have not returned.
China's property market stalls amid coronavirus outbreak | Financial Times $$
The impact of the crisis on China's property market, which some estimate makes up 25 per cent of gross domestic product, is threatening to weigh down the country's economic growth to 4 per cent in the first quarter, according to several analysts.
Comment: Residential transactions at least may go to zero in many cities, for weeks. Even if there is a buyer the sales process requires several in-person steps to actually get the transaction completed legally
China's central bank Beijing operation ensures more re-discounted loans for coronavirus-hit firms: Shanghai Securities News - Reuters
The PBOC Beijing operation also told banks to cap interest rates on loans for some key enterprises in Beijing at the latest one-year loan prime rate (LPR) minus 100 basis points, according to the report.
WeChat Pay offers financial aid for hospitalized merchants · TechNode
merchants can apply for financial aid via WeChat's payment platform. Applicants eligible for the aid will receive RMB 1,000 ($143.5) per day for up to 30 days, and are not required to repay the funds.
Yum China closes 30% of stores due to coronavirus - MarketWatch
For stores that remain open, same-store sales since the Lunar New Year holiday fell as much as 50% compared with the same time last year in part because of shortened operating hours and reduced traffic.
Toyota and Nintendo warn of hit from coronavirus outbreak | Financial Times $$
Two of Japan's biggest companies have warned of a hit from the coronavirus outbreak with Nintendo saying there will be delays to shipments of its best-selling Switch console and Toyota braced for a dent to car sales in China.
Millions of chickens at risk amid China lockdowns due to coronavirus - CNBC
The shutdowns in China's provinces have hit supply chains, with transport restrictions preventing much needed animal feed such as soybean meal from getting delivered to poultry farms, according to analysts and Chinese state media.
Qualcomm Reports Higher Revenue, Issues Mixed Outlook - WSJ $$
Qualcomm has also started to see a decrease in orders of chips from customers in China as a result of the outbreak of coronavirus there, Mr. Palkhiwala said in an interview.
As the Virus Spreads, Face Mask Makers Go Into Overdrive - The New York Times
The factory typically makes around 170 million masks a year, but in the last week orders arrived for a staggering half a billion, flooding the sales department's inboxes at the rate of one every two minutes.
---
4. Frontline reports
Reporter's Notebook: Life and Death in a Wuhan Coronavirus ICU - Caixin
In the coronavirus epidemic, doctors on the front lines take on the greatest risk and best understand the situation. Peng Zhiyong, director of acute medicine at the Wuhan University South Central Hospital, is one of those doctors.

In an interview Tuesday with Caixin, Peng described his personal experiences in first encountering the disease in early January and quickly grasping its virulent potential and the need for stringent quarantine measures...

Caixin: You predicted back in January that there would be person-to-person transmission and even took quarantine measures. Did you report the situation to higher-ups?

Peng: This disease really did spread very fast. By Jan. 10, the 16 beds in our ICU were full. We saw how dire the situation was and told the hospital's leadership that they had to report even higher. Our head felt it was urgent too and reported this to the Wuhan city health committee. On Jan. 12, the department sent a team of three specialists to South Central to investigate. The specialists said that clinical symptoms really resembled SARS, but they were still talking about diagnosis criteria, that kind of stuff. We replied that those standards were too stringent. Very few people would get diagnosed based on those criteria. The head of our hospital told them this multiple times during this period. I know other hospitals were doing the same.
'I'm much more useful here': A French doctor's experience in coronavirus-hit Wuhan
Within 15 minutes of France's announcement that it was repatriating its nationals from the Chinese city Wuhan on January 26, Philippe Klein had made up his mind: "I'm much more useful here," said the head doctor at the international clinic in this city of 11 million inhabitants. Between two appointments, he told FRANCE 24 about daily life in virus-hit Wuhan.
Very moving video diary from Wuhan
After the Lockdown, Wuhanese Struggle to Return Home - SixthTone
---
5. Travel
Suspending flights not to help curb epidemic, but sow panic: spokesperson - Xinhua
Spokeswoman Hua Chunying made the remarks at an online press briefing when asked to comment on some countries' decisions to suspend flights after the novel coronavirus outbreak.

Comment: From several discussions and Wechat groups it sounds like Thailand may be the easiest place to get to if you are trying to leave China.
Canadians, get out of China by any means possible: foreign affairs minister | National Post
"We are also encouraging Canadians in China, whose presence is none essential to depart via commercial means."
Canada Aims to Evacuate Citizens From China on Thursday: Source - Reuters
Saudi Arabia News: Travel to China Banned on Coronavirus Fears - Bloomberg
The kingdom banned citizens and expatriates from traveling to China, state-run Saudi Press Agency reported. Saudi citizens violating the restrictions would be penalized, while expatriates wouldn't be allowed back into the country.
Chinese president discusses novel coronavirus control with Saudi king over phone - Xinhua
During their phone conversation, Xi said he deeply appreciates that King Salman and the Saudi side have repeatedly expressed their firm support to China at this critical moment when China is fighting the pneumonia epidemic caused by the novel coronavirus, which has fully demonstrated the sincere friendship and the high level of comprehensive strategic partnership between the two countries.
China Logs Deadliest Day for Coronavirus as U.S. Plans Last Flights From Wuhan - WSJ $$
The State Department offered Americans stranded in the Chinese city at the center of the coronavirus epidemic a last chance for evacuation: two planes, departing as soon as Thursday night, headed for U.S. soil, after China reported its highest single-day total of fatalities from the outbreak
Coronavirus: China Southern, Hainan Airlines among crisis-struck mainland carriers to put all foreign pilots on unpaid leave | South China Morning Post
"All foreign pilots, including those who have applied for leave exemption and those who have not, shall start a non-fixed term leave without pay as soon as possible," a Tuesday memo to a batch of foreign pilots for China Southern, the country's largest carrier, said.
China's civil flights won't be suspended: FM spokesperson - Xinhua
China's civil flights will not be suspended, and the Chinese government will bring Chinese nationals home from wherever they are, a foreign ministry spokesperson said Thursday.
---
6. US-China
China to Cut Tariffs on $75 Billion of U.S. Goods - WSJ $$
China said it would slash tariffs on $75 billion of U.S. imports in half as part of its efforts to implement a recently signed trade agreement with Washington.

Beginning Feb. 14, China will cut tariffs on some U.S. goods to 5% from 10%, while levies on some other items will be reduced to 2.5% from 5%, China's Ministry of Finance said in a statement Thursday. The tariffs were imposed in September and December during a brutal trade fight between the world's two largest economies.
China, US can't put easing trade tension in reverse amid epidemic - Global Times
The agreed upon figure for China's increase in purchases of US imports covers a two-year period. Even now China could meet that target, once the epidemic is reined in.

Even if China is unable to reach that goal, there is still a sensible path forward without jeopardizing the agreement and the negotiation process. The phase one agreement clearly stated that the two parties would consult with each other, "in the event that a natural disaster or other unforeseeable event outside the control of the Parties delays a Party from timely complying with its obligations under this Agreement." Without doubt the epidemic fits this scenario.
Video - China Initiative Conference | Center for Strategic and International Studies
In November 2018, the Department of Justice unveiled the China Initiative, which was established to fulfill the Department's strategic priority of confronting national security threats presented by the People's Republic of China, with a particular emphasis placed on the policies and practices that seek to challenge U.S. technological and scientific leadership.  This half-day event brings together high-level officials from the U.S. government, private industry and academia, to discuss the most timely and relevant issues regarding the Department of Justice's efforts to counter this economic malfeasance.
Barr urges US to buy stakes in Ericsson and Nokia to compete with Huawei | Financial Times $$
William Barr said on Thursday the US and its allies should be "actively considering" proposals for "American ownership of a controlling stake" in the European companies, "either directly or through a consortium of private American and allied companies".
Barr warns against Chinese 'dominance' in wireless networks - AP
"To be clear, this is not about the Chinese people as a whole, and it sure as heck isn't about Chinese Americans as a group," FBI Director Chris Wray said. "But it is about the Chinese government and the Chinese Communist Party."
Full text of Barr's speech - Attorney General William P. Barr Delivers the Keynote Address at the Department of Justice's China Initiative Conference
FBI says about 1,000 investigations open into attempted tech theft by China - Reuters
FBI Director Christopher Wray said on Thursday that China was seeking to steal U.S. technology by "any means necessary" and the law enforcement agency has about 1,000 investigations open into Chinese technology theft across its 56 regional offices...

Senior U.S. counter-intelligence official William Evanina told the same conference that China was placing priority on stealing U.S. aircraft and electric vehicle technology.
Emory professor hit with criminal charge, linked to Chinese government program
A former Emory University neuroscientist who was fired last year after the university alleged he failed to disclose income from China is facing a criminal charge, court records show.

The federal charge against Xiaojiang Li, alleging theft of grant funds, spotlights a new federal effort to combat Chinese economic espionage on university campuses. Li was a member of the Thousand Talents plan, a Chinese recruitment program that a Senate report last year said was designed to steal sensitive research.
US warns over Chinese 'spying' on African disease control centre | Financial Times $$
The Trump administration has cited concerns over Beijing's scientific spying programme as the reason it wants to block a Chinese plan to build an $80m headquarters for the Africa Centers for Disease Control and Prevention in Ethiopia, amid growing competition for influence in the continent.

"It's a threat to Africa. Africa has vast amounts of genomic data and the Chinese want to build the CDC to eventually steal the data from all the other centres," an administration official told the Financial Times, referring to five regional Africa CDC hubs, some of which were built by the US. Based in Egypt, Nigeria, Gabon, Kenya and Zambia, they handle high-risk viruses, health crises, research and data collection.
China lodges solemn representations to U.S. on Taiwan official visit: FM - Xinhua
Spokesperson Hua Chunying made the remarks at an online news briefing when answering a question about Lai Ching-te's visit to the United States.
Taiwan's Central News Agency of Taiwan reports that Taiwan's Vice President-elect visited the NSC for 70 minutes Wednesday.
---
7. Taiwan
U.S. and China clash at WHO over Taiwan participation - Reuters
"For the rapidly evolving coronavirus, it is a technical imperative that WHO present visible public health data on Taiwan as an affected area and engage directly with Taiwan public health authorities on actions," Andrew Bremberg, U.S. ambassador to the U.N. in Geneva, told the WHO's Executive Board.

China's delegation took the floor to express its "strong dissatisfaction" that some countries had raised the issue of Taiwan's participation during the technical meeting.
Taiwan says China feeding WHO wrong information about virus cases on island - Reuters
On Tuesday, the WHO corrected the number of cases reported on the island after having said there were 13. At the time Taiwan had only 10. Taiwan said on Thursday there were now 13 cases, compared to more than 28,000 in China.

Speaking at a news conference, Taiwan Foreign Ministry spokeswoman Joanne Ou said the crux of the problem was China giving the wrong case number details to the WHO.

"This was wrong information that was provided by China which created the mistake," she said.
Attempts to exploit the epidemic for 'Taiwan independence' won't succeed - CGTN
Taiwan is part of China and has no right to join the WHO. The one-China principle is a universally recognized international norm that should not be challenged or trampled upon, and any issue concerning Taiwan's participation in the activities of international organizations must be resolved under the principle.
Taiwan halts visas for Hong Kong and Macau citizens as coronavirus deaths reach 565 globally | South China Morning Post
"Beginning [midnight Thursday], we will suspend online and landing visa application services" until further notice, announced Chiu Chui-cheng, vice-chairman of Taiwan's Mainland Affairs Council, which sets the island's policies towards mainland China.
Taiwan's latest Wuhan virus patient was not listed for evacuation from China - Focus Taiwan
The most recent confirmed case of the 2019 novel coronavirus (2019-nCoV) in Taiwan is a man who was evacuated from China on Monday, but the patient was not listed among the 244 people Taiwan asked to have sent back from Wuhan City, a Taiwanese group involved in the effort said Wednesday.

Late Feb. 3, a charter flight carrying 247 Taiwanese arrived in Taipei from Wuhan, the epicenter of the virus, and they have since been in quarantine at three separate facilities across the country.

Three of the evacuees, including the man who tested positive on Tuesday in Taiwan's latest case, were not on the list provided by Taiwan to Chinese authorities for evacuation, Hsu Cheng-wen (徐正文), the head of a private group that helped coordinate the effort, told the media Wednesday.
Taiwan bans international cruise ships from docking - Reuters 
Taiwan's health authority banned all international cruise ships from docking at the island from Thursday amid increasing threat of the coronavirus outbreak, after 10 more people were tested positive for the virus on a quarantined cruise liner in Japan.
---
8. Xinjiang
China Shifts to New Phase in Campaign to Control Xinjiang's Muslims - WSJ $$
During a recent visit to several cities and towns in the Uighur heartland of southern Xinjiang, it was clear that many of the overt security measures employed in recent years have been rolled back after months of international scrutiny and criticism from the U.S. and other Western nations.

Yet other, at-times more subtle, forms of control remain in place.,,

A range of factors likely contributed to the decision to shut down some camps and roll back some of the police presence, including officials' confidence that they had achieved their goal of diluting the influence of Islam, said James Leibold, an expert on Chinese ethnic-minority policies at Melbourne's La Trobe University.

"I do think international pressure has played some role," he said. "Another big driver is the energy and expenses of creating a police state."
The disappearance of Perhat Tursun, one of the Uyghur world's greatest authors - SupChina - Darren Byler
Perhat Tursun is the preeminent modernist Uyghur author, a self-proclaimed Kafka character whose novels are among the most influential in Uyghur society.

Perhat was disappeared at the height of his powers by the Chinese state, a victim of the government's re-education campaign in Xinjiang.
---
Business, Economy and Trade
致西贝21870名员工的一封信 The chairman of Xibei Youmian, a famous restaurant chain, wrote a letter to its 20000 employees to assure them that their jobs are safe, and they can come back to work after the epidemic is gone. The Chairman said currently 800 of the 1000 Xibei restaurants remained closed due to virus outbreak. Earlier reports said the company would run out of cash in three months if they can't reopen the restaurants soon enough after the Chinese new year.
Prudential eyes full control of China venture, considers U.S. options - Reuters Prudential (PRU.L) is in talks that could lead to it taking full control of its 50:50 joint venture with China's CITIC (0267.HK) and is considering selling some or all of its U.S. business to sharpen its focus on Asia, a source told Reuters.
Politics and Law
Chinese scholar blames Xi Jinping, Communist Party for not controlling coronavirus outbreak | South China Morning Post A prominent Chinese scholar has published an article criticising the country's leadership for failing to control the coronavirus outbreak that has infected almost 25,000 people around the world.
Xu Zhangrun, a law professor at Tsinghua University in Beijing, who has been under close surveillance by the authorities, blamed Communist Party leaders for putting politics ahead of the people in his strongly worded piece, which was published on several overseas Chinese-language websites this week.

Xu's piece - 许章润:愤怒的人民已不再恐惧
Foreign and Defense Affairs
Canada and China both 'furious' in row triggered by Huawei arrest: Canadian envoy - Reuters "We're angry, we're very angry because of our people that have been taken. China is very angry as well, furious, we're both furious," Dominic Barton told a special committee of legislators looking into ties with Beijing.
Huawei plays star role in new China-Russia AI partnership - Nikkei Asian Review the Kremlin has declared 2020 the year of Russian-Chinese scientific, technical and innovation cooperation. One priority stands out: artificial intelligence. Experts say this new AI partnership -- with Huawei playing a starring role -- could undermine American technological dominance. But just as Moscow and Beijing are wary of Washington, they have their doubts about each other. Some Russian tech insiders warn that working with China is fraught with risks.
Vodafone to remove Huawei from core European networks | The Guardian Vodafone is to remove Huawei equipment from the sensitive, core parts of its mobile networks across Europe at a cost of €200m (£169m) over the next five years.
Boris Johnson's father spoke to Chinese ambassador about coronavirus - BBC News The PM's father, Stanley Johnson, met Chinese ambassador Liu Xiaoming and emailed his worries to UK officials - accidentally copying in the BBC. Mr Liu told him the prime minister had not yet directly contacted the Chinese.
How Technology Strengthens Autocracy - Foreign Affairs - By Andrea Kendall-Taylor, Erica Frantz, and Joseph Wright Led by China, today's digital autocracies are using technology—the Internet, social media, AI—to supercharge long-standing authoritarian survival tactics. They are harnessing a new arsenal of digital tools to counteract what has become the most significant threat to the typical authoritarian regime today: the physical, human force of mass antigovernment protests. As a result, digital autocracies have grown far more durable than their pre-tech predecessors and their less technologically savvy peers.
South Asian hackers target China in midst of coronavirus panic: Qihoo · TechNode "It can be said that epidemic warfare is closely linked to cyberspace warfare, and cyberspace has become another important battlefield for epidemic warfare." –Qihoo 360 researchers
China in a World of Orders: Rethinking Compliance and Challenge in Beijing's International Relations | International Security | Alastair Iain Johnston there are at least eight "issue-specific orders" (e.g., military, trade, information, and political development). Some of these China accepts; some it rejects; and some it is willing to live with. //looks like an interesting article, paywalled
Hong Kong and Macao
Hong Kong's restaurants sector registers first annual decline in 16 years - Xinhua The total revenue of Hong Kong's restaurants sector in 2019 decreased by 5.9 percent from the previous year, the first annual decline in 16 years, according to statistics released on Wednesday by the Hong Kong Special Administrative Region (HKSAR) government.
Singapore Confidence Exposes Hong Kong's Failure in Health Crisis - Asia Sentinel Once upon a time, Singapore and Hong Kong were reckoned to have equally efficient governmental systems, among the best in Asia, able to respond quickly and without prompting to new public health and other challenges
Tech and Media
Bilibili Entertains China's Quarantined Millions With Online Concerts – Variety The company has teamed up with the annual Strawberry Music Festival to create the Stay at Home Strawberry concert series, working around the theme of "Hi, I'm home too." The series will be live-streamed free of charge 4-10pm daily five days per week, on Bilibili.
Gaming in China: Lunar New Year and the Coronavirus Outbreak – Niko We are currently evaluating the impact of the novel coronavirus on China's digital games market and will adjust our 2020 forecast in our April reports. Meanwhile, our current observations are found in this document
Yanxi Palace Spin-off Turns to Netflix  – The Diplomat Yanxi Palace: Princess Adventures debuted as a series on Netflix on December 31, 2019, following its much loved and well-known predecessor, The Story of Yanxi Palace (延禧攻略). The Story of Yanxi Palace was the most widely Googled show in 2018, despite Google being blocked in China. Yanxi Palace was originally released on iQiyi, the Chinese equivalent of Netflix, and enjoyed overwhelming success
Huawei Sues Verizon in U.S. Over Patents - WSJ $$ Huawei's lawsuit, filed in federal district court in Texas late Wednesday, argues that Verizon should pay the Chinese company for its use of a variety of telecommunications technologies patented by the Shenzhen-based company, which is the world's largest maker of telecommunications equipment and the No. 2 seller of cellular phones.
Education
Harvard Leads U.S. Colleges That Received $1 Billion From China About 115 colleges got monetary gifts, contracts or both from sources in mainland China in the six and a half years through June, according to a Bloomberg analysis of U.S. government data. The leader was Harvard University, which pulled in $93.7 million, the majority as gifts. The University of Southern California and University of Pennsylvania were second and third. // Question: How are they counting PRC money? 93m for Harvard over 6 years seems low