Wuhan virus; Travel bans; Economic impact; What was known in December?
What an awful week, and the news is not getting better.
The official number of cases of the Wuhan virus has already surpassed the total number of SARS cases. WHO has declared a global emergency, airlines and many countries are cutting travel links to China, the Trump administration just declared a public health emergency, is suspending entry of foreign nationals who have been in China within the last 14 days, will require any U.S. citizens returning from the center of the outbreak in China to be quarantined for two weeks, and according to Politico:
is planning to evacuate additional Americans next week from the region of China at the center of the Wuhan coronavirus outbreak, and officials are considering a mandatory order for all U.S. citizens there to leave, two officials told POLITICO.
Do not be surprised if just about any country that has the capabilities pursues similar policies. These travel suspensions will not be unwound quickly, and I would be surprised if we are back to any kind of normalcy by April even in a best case scenario.
I am skeptical of analyses that the economic hit this time will be similar to the impact from SARS. Today's economy is a lot more dynamic, complex and interlinked than it was in 2004, and there is much more local government, corporate, consumer and mortgage debt. The financial system is likely to come under extreme pressure in the coming weeks and if the Party can not get the outbreak under control and restore confidence quickly there is a small but greater than zero chance we could see an economic heart attack alongside this virus. The leadership knows this and has the Party and PLA in full mobilization mode to win the battle with the virus and stabilize the economy, so expect more extreme measures.
The Party propaganda machine is working hard to control the messaging but the revelations that there were medical professionals in Wuhan trying to warn about this virus back in December but were silenced by the stability maintenance apparatus has provoked an uproar. The stability maintenance system may once again have created more instability, as a belief that this outbreak was preventable coupled with a breakdown in the basic economy could lead to a disaster for the Party. I am not predicting that will happen (yes I watched Chernobyl), but this is as close to an existential crisis for Xi and the Party that I think we have seen since 1989.
All the risks Xi focused on in that extraordinary three day meeting of the senior party, state and government leadership of the PRC a year ago (see the January 22, 2019 newsletter) were manageable for the Party, but I am not sure this kind of outbreak was one of them. For all the warnings over the last couple of years about "black swans" and "grey rhinos", it would be certainly be ironic if a different kind of wild animal turns out to be the proximate cause for an event that is stressing the PRC system in ways it has not been in decades.
I generally agree though with the Economist's David Rennie on the likely outcome for Xi and the Party - Xi Jinping wants to be both feared and loved by China's people:
It is too simplistic to assume that all bad things that happen in China must harm Mr Xi. The virus outbreak could end swiftly, amid worldwide praise for the bravery of China's doctors and nurses, the self-discipline of the public and the resolve of Chinese leaders, albeit after a slow start. If the crisis does not end well, scapegoats will be found, and underlings punished. That alone would not have to shake Mr Xi's authority, which can always be shored up with repression, still greater ideological discipline and nationalist propaganda. But a botched response to the virus would lay bare tensions inherent in the party's hybrid claims to legitimacy.
And this week's Economist cover is quite clever: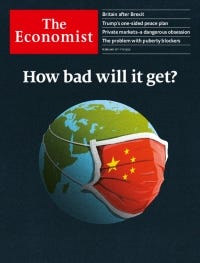 The call has gone out to have the Party flag "fly high at the frontline of the battleground", but while Party members are going to the front lines Xi Jinping himself has disappeared from view. Xi did not appear on page one of the Thursday, Friday or Saturday People's Daily, nor was he seen on the Thursday or Friday CCTV Evening News broadcasts, though the Friday show led with the news that his article on cultural protection and exchange will be published in the Saturday issue of Qiushi. Now is not the time for the people's leader to disappear from the view of the people.
Thanks for reading.
---
1. The virus
Caixin has the latest updates here - Wuhan Virus Latest: Nearly 10,000 Cases as More Nations Shut their Borders
China further extends holiday in coronavirus hard-hit regions - Xinhua
A meeting of the leading group of the Communist Party of China Central Committee on the novel coronavirus prevention and control agreed that Hubei would extend the holiday to an "appropriate extent." People in Hubei whose workplaces are outside the province were also granted an extended holiday and were asked to stay put...

For regions where the number of new confirmed cases is rapidly increasing or where big risks exist, necessary measures such as postponing starting dates of business and school may also be adopted following due legal procedures, said a statement issued after the meeting
Friday CCTV Evening News report on the meeting 李克强主持召开中央应对新型冠状病毒感染肺炎疫情工作领导小组会议 部署做好春节后错峰返程加强疫情防控等工作
Xi orders military to contribute to winning battle against epidemic - People's Daily Online
The armed forces are tasked with treating patients in Huoshenshan Hospital in Wuhan, which reflects the high level of trust that the Party and the people place in them, Xi said...

Xi ordered military hospitals engaged in the epidemic control to treat patients with all-out efforts and military research institutions to step up scientific research to contribute to winning the battle against the epidemic.
After Being Punished by Local Police, Coronavirus Whistleblower Vindicated by Top Court - Caixin
An ophthalmologist in Wuhan, believed to be a whistleblower of the coronavirus outbreak punished by local police, has been vindicated by China's top court. Suspected to have been infected after treating a patient, he says that he will return to the front lines and continue fighting the virus once he recovers.

Li Wenliang received national attention after China's top court Tuesday criticized (link in Chinese) Wuhan police for reprimanding eight Wuhan citizens for "spreading rumors" about an illness in late December, in a post on its official WeChat account. Li is considered to be one of the eight, although the police did not identify who specifically they had accused or punished.

On Dec. 30, Li sent a message in his medical school alumni WeChat group, warning that the ophthalmology department in his hospital had put seven patients from a local seafood market who were diagnosed with severe acute respiratory syndrome (SARS) into isolation wards.
China Disease Control Official Says Wuhan May Have 'Hesitated' on Virus Response - Caixin
Zeng Guang, chief epidemiologist at the Chinese Center for Disease Control and Prevention (CDC), said Wednesday in an interview with the state-run Global Times that the local authorities' delayed response was "mainly because of [their] lack of scientific recognition" of the new type of coronavirus.

However, Zeng said that he could not rule out other factors, such as "some hesitation in the decision-making process," and "whether the government had confidence in itself."

While public health workers make decisions based on scientific evidence, he said, governments also need to take into account economic and political factors, which could slow their decision-making, such as social stability and the Lunar New Year holiday which fell at the end of January...

The epidemiologist further praised eight Wuhan citizens who were reprimanded by local police for "fabricating, disseminating and spreading rumors" after posting online about a "SARS-like" coronavirus in late December.

"The eight people are respectable. In retrospect, we think highly of them," Zeng said, "They were wise before the event."

China's Supreme People's Court also believed that the eight Wuhan citizens shouldn't be punished as what they said was not entirely false.

"It might have been a fortunate thing if the public had believed the 'rumors' then and started to wear masks and carry out sanitization measures, and avoid the wild animal market," an article published on the top court's social media account said on Tuesday.
New Paper Raises Fresh Doubts Over Authorities' Withholding of Coronavirus Details- Caixin
The Chinese Center for Disease Control and Prevention (CDC) put out a statement on Friday defending its handling of the outbreak and its information disclosure...

In its statement, which was distributed to state media and is not on its website, the Chinese CDC said the study referred to in the paper was a "retrospective study" and all cases mentioned had been reported to the public by Zhong Nanshan and the Wuhan Municipal Health Commission on Jan. 20 and 21, respectively, according to the statement
The paper - Early Transmission Dynamics in Wuhan, China, of Novel Coronavirus–Infected Pneumonia | NEJM
there is evidence that human-to-human transmission has occurred among close contacts since the middle of December 2019.
China Virus Cases Surging 3,000% May Be Undercounting Infections - Bloomberg
Wu Zunyou, chief epidemiologist at China Center for Disease Control And Prevention, downplayed the severity of the epidemic, saying the surge in the number of confirmed cases in Hubei in the past three days does not necessarily mean the situation there has deteriorated significantly.
China urges resuming production of materials related to epidemic control - SCIO
Chinese provinces have been required to resume the production of medical resources for the prevention and control of the coronavirus epidemic, according to a circular issued by the State Council General Office on Jan 30. 国务院办公厅印发《关于组织做好疫情防控重点物资生产企业复工复产和调度安排工作的紧急通知》
Medical supply shortage haunts Hubei - Global Times
"Some frontline co-workers are betting with their lives. They have to save lives with or without sufficient supplies," an employee at the Union Hospital in Wuhan, capital of Central China's Hubei Province, told the Global Times on Friday.
CPC members in military urged to implement Xi's order to battle against epidemic - Xinhua
Party organizations at all levels and Party members in the military must resolutely implement President Xi Jinping's order to win the fight against the coronavirus outbreak, according to a circular issued by the Central Military Commission.
Chongqing, Heavily Hit by Epidemic, Braces for Uphill Battle - Caixin
As of Thursday, Chongqing had 206 confirmed infections (link in Chinese) by the virus. Beijing, Shanghai, Guangzhou and Shenzhen reported 132, 128, 106 and 110 cases respectively.
Eight Tianjin High-Speed Rail Workers Infected With Coronavirus - Caixin
The first two confirmed cases of the eight were Tianjin residents working as temporary crew members on a Beijing to Wuhan train that runs through Tianjin, Tianjin's railway authorities said in a press conference. The exact train they worked on was not revealed.
US State Department - China Travel Advisory
Do not travel to China due to the novel coronavirus first identified in Wuhan, China. On January 30, the World Health Organization determined the rapidly spreading outbreak constitutes a Public Health Emergency of International Concern. Travelers should be prepared for travel restrictions to be put into effect with little or no advance notice. Commercial carriers have reduced or suspended routes to and from China.
Coronavirus outbreak: China slams US warning as death toll rises - Sydney Morning Herald
"The World Health Organisation urged countries to avoid travel restrictions, but very soon after that, the United States did the opposite," Chinese Foreign Ministry spokeswoman Hua Chunying said in a statement on Friday.

"It's truly mean."
State Department authorizes personnel to evacuate China due to coronavirus - Axios
The U.S. State Department has placed U.S. diplomatic staff and their families in China on "authorized departure," meaning they are permitted to leave the country amid the coronavirus outbreak.
China vows to bring home stranded Hubei residents from overseas as soon as possible - Xinhua
China's Foreign Ministry Spokesperson Hua Chunying on Friday said that considering the practical difficulties Chinese citizens from Hubei province, especially those from Wuhan city, have encountered overseas, the Chinese government has decided to send chartered planes to take them directly back to Wuhan as soon as possible.
Comment: I Wonder if these kids are OK, they arrived in DC last week, have been roaming the city since I believe - 21 students from Chinese province at center of virus outbreak in Fairfax County for school, cultural exchange
中央军委印发 关于坚决贯彻习主席重要指示 加强军队党的领导、打赢疫情防控阻击战的通知 - 中国军网
China to continue work with WHO, countries to safeguard health - China Daily
China has confidence and capability to win the battle against the epidemic caused by the novel coronavirus, the Foreign Ministry said on Friday after the World Health Organization declared the pneumonia outbreak in China a public health emergency of international concern.

Ministry spokeswoman Hua Chunying said in an online statement that China will continue working with the WHO and other countries to safeguard regional and global public health security.
Japan to enforce special virus measures from Sat, urges citizens against non-urgent China trips - Reuters
Outrage as Italian conservatoire bans all "oriental" students over coronavirus fears - Classic FM
Outbreaks of xenophobia in west as coronavirus spreads | The Guardian
Beijing's SARS hospital under renovation - Xinhua
Beijing has begun to renovate its hospital Xiaotangshan, formerly used to quarantine SARS patients, as a precaution in the face of the novel coronavirus outbreak, according to a press conference on Thursday. Whether the hospital will be put into use will be based on the future development of the outbreak.
Coronavirus and Modeling Fear - Risk Market News
Risk Market News spoke with Nita Madhav, CEO of disease risk analytics firm Metabiota, about the risk that the current outbreak possesses, the importance that fear plays in loss estimates and the challenges of validating an infectious disease model.
三联生活周刊:专访缪晓辉:"非典"的经验是锁住人,不是锁住城
SARS expert Miao Xiaohui warned that this virus is different from SARS, which died down with warmer temperatures in 2003, says this n-Conv epidemic "is far from reaching the plateau", and therefore building special hospitals won't solve the problem. 
Coronavirus: Chinese health experts warn patients can get reinfected | South China Morning Post
Zhan Qingyuan, head of infectious diseases at the China-Japan Friendship Hospital, said in a press briefing on Friday that people who had already had the virus would have developed antibodies but should remain on alert so they did not get ill again.
"The antibodies may not remain for a long time, so there is still a risk that these recovered patients will be infected again," Zhan said. "They should continue to keep themselves protected."
Genomic characterisation and epidemiology of 2019 novel coronavirus: implications for virus origins and receptor binding - The Lancet
2019-nCoV is sufficiently divergent from SARS-CoV to be considered a new human-infecting betacoronavirus. Although our phylogenetic analysis suggests that bats might be the original host of this virus, an animal sold at the seafood market in Wuhan might represent an intermediate host facilitating the emergence of the virus in humans.
Three drugs fairly effective on novel coronavirus at cellular level - Xinhua
The three drugs are Remdesivir, Chloroquine and Ritonavir. They are now under relevant procedures to gain approval for clinical use, said Hubei Daily on Wednesday.

The discovery was jointly made by researchers from the Academy of Military Medical Sciences and the Wuhan Institute of Virology (WIV) under the Chinese Academy of Sciences (CAS).
China's top university developing novel coronavirus vaccine - Xinhua
Tsinghua has accumulated rich experiences over the past years in developing vaccines and agents against coronaviruses known to infect humans, including the SARS virus. In 2019, Zhang led a research team that came up with a vaccine targeting the Middle East Respiratory Syndrome (MERS) virus.

He estimated that the research team will take at least 40 days to develop a candidate novel coronavirus vaccine, with the help of new vaccine technology.

The researchers are also working together with hospitals across China to conduct clinical trials on patients that have been cured of the disease.
Comment: I will guess than any promising vaccine candidates will go straight to field testing
People's Daily on Party Members stepping up and ask for "battle assignments" to join the fight against the virus
在严峻斗争实践中考察识别干部 - 《 人民日报 》( 2020年01月31日 01 版)
这场严峻斗争对干部的考验是多方面的。首先,是对干部政治素质和全局观念的重大考验。在这样一个特殊时期,看一个干部是否增强"四个意识"、坚定"四个自信"、做到"两个维护",就要看他能否坚决把思想和行动统一到习近平总书记重要讲话、重要指示和中央政治局常委会会议精神上来,统一到党中央决策部署上来,把疫情防控工作作为当前最重要的工作来抓
Leading Expert on Epidemic Outcomes, 'Psychological Intervention' - SixthTone
Scenario 1: Win
"This would entail no patients still requiring treatment after two to four weeks, and controlling the epidemic within two to three months. This, of course, is the most optimistic situation."

Scenario 2: Hold
"This means we partially control the epidemic, with cases continuing to climb, but at a mild rate. The anti-epidemic measures (under this scenario) might last from six months to one year, as was the case with SARS."

Scenario 3: Failure
"This means the new virus would evolve to become a recurring seasonal disease," Zhang said, adding that such an outcome would be "so dangerous."
As An Epidemic Raged, What Kept Party Media Busy? | China Media Project
The system of the CCP is like a great big elephant. It is difficult for the sudden and unexpected to force any change to its huge and lumbering gait.

All of the deception and miscalculation that has happened in the wake of the revealing of the epidemic has been a source of immense public anger. But in such a time of disaster, we have also seen journalists within the system trying to act in good conscience, and internet users too have taken to new digital platforms to try to raise their voices.
Chronic Disease Patients Made to Walk Hours for Care as Wuhan Fights Coronavirus - Caixin
With many hospital wards and clinics repurposed to tackle the new virus and roads to villages and towns blocked, people with ailments such as kidney disease and HIV are also being cut off from health care.
China orders community organizations to suspend mass gatherings amid coronavirus outbreak - Xinhua
China's urban and rural community organizations are asked not to hold mass gatherings amid the novel coronavirus outbreak, said the Ministry of Civil Affairs Thursday.

Urban and rural community organizations are asked to join hands with local medical and health institutions to strengthen fever and symptom monitoring for people who return from the epidemic areas and other places, and to urge them to undergo medical observation at home, according to a guideline jointly released by the ministry and the National Health Commission.
An Outbreak of Slogans | China Media Project
as communities across China mobilize against the spread of the disease, they are naturally exercising one very creative (and often revealing) aspect of the country's political culture – the ubiquitous "slogan," or biāoyǔ (标语).
The CCP Organization Department, essentially the HR arm of the party, said it will promote officials who perform best in controlling the epidemic.
China Youth Daily story about a young doctor who noticed early signs of the virus and sent warnings to school nearby. She also described the situation in her hospital, which is short of both staff and medical supplies.
财新:泄露新冠病毒患者及家属个人隐私,湖南一卫生局副局长被查
Several officials in Hunan are disciplined by the Party for leaking private details of a n-cov infected patient and his/her family. The info about the patient was first spread among officials on WeChat then made it to the public. The notice put out by the local government said the move violated the privacy of the patient and caused "serious social impact".
"这个我不知道"中央督查组赴黄冈督查核查, 当地卫健委主任竟一问三不知
Top disease control official in Huanggang, the most virus affected city after Wuhan, is sacked for unable to answer basic questions from an inspection team sent from Beijing. Tang Zhihong, the official, was caught on camera by CCTV for unable to give answers regarding hospital capacity and number of patients. 
Chinese netizens on Weibo posted a picture of a warning put out by Myanmar ministry of health on Jan 18 regarding the Wuhan virus. The netizens complained that even Myanmar warned the public two days earlier than the Chinese government. 
---
2. Economic Impact
At Least Two-Thirds of China Economy to Stay Shut Next Week - Bloomberg
Fourteen provinces and cities have said businesses need not start operations until at least the second week of February. They accounted for almost 69% of China's gross domestic product in 2019, according to Bloomberg calculations.
China banks borrow from SARS playbook in preparation for market reopening - Reuters
Bank compliance rules mean that while staff such as analysts can work from home, traders must work from the office using secure internal systems.

The Shanghai government has told companies not to allow workers back before Feb. 9. Banks, however, are deemed to be providing an essential service and are required to re-open nationwide on Monday, and staff called to work must be paid double on holidays.

China Construction Bank (CCB) (601939.SS), the country's second largest lender, and Hang Seng Bank (0011.HK) are among those planning to split their trading teams and alternate their working days, according to three sources.
Coronavirus Costs China's Service Sector $144 Billion in a Week - Caixin
Compared with 2013, when the SARS outbreak knocked off 2 percentage points of quarterly GDP growth, the proportion of consumer consumption in GDP today is much higher, meaning the epidemic will have a greater impact on the economy, Evergrande's economist Ren said.

In the best-case scenario, which assumes the epidemic can be quickly contained and brought to an end by April, China's GDP growth is expected to slow to 5.4% this year from 6.1% in 2019, Ren estimated. But in the worst-case scenario, assuming the epidemic lasts longer than expected, Ren estimated that 2020 growth could slow to 5%.
Companies in Beijing to resume work on February 10 due to virus fight: government newspaper - Reuters
The measure is applicable to government and private companies but is not applicable to utilities and some other firms such as medical equipment companies, pharmaceutical companies and supermarkets, the newspaper reported.
Taoran Notes is back, and he is focusing on how to mobilize production and manage logistics to fight the virus and its impact. I assume he is still channeling Liu He - 关注疫情防控 | "前敌指挥部"正在做什么?-新华网
在陶然笔记看来,依然严峻的疫情和逐渐加强的应对,是现在同时存在的两种情况,而防控疫情的关键时期正在来临,紧张的局面恐怕还会持续一段时间。

但是,我们没有退路。

这就像掰腕子一样,拼的就是能不能咬紧牙关,憋足一口气,把自己的真正实力发挥出来,去压倒对手。

把每一步踏踏实实走好,把每一天的疫情应对工作做到极致,战胜疫情的那一天,总会到来。

我对此深信不疑。
Coronavirus could hurt China's phase one implementation - POLITICO
The phase one trade agreement will enter into force on Feb. 14. China agreed to purchase a maximum of $200 billion of agricultural, energy and other U.S. goods within two years. This year, it's required to purchase $76.7 billion worth of goods and services above what the country purchased in 2017.

Another person, who declined to be named because of the sensitivity of the issue, told Morning Trade that all channels of communication between the U.S. and China are focused on the spread of the virus and that efforts to implement the purchase of U.S. goods are "in the freezer" at this point...

Commerce Secretary Wilbur Ross on Thursday said the coronavirus outbreak in China, which has killed more than 100 people and sickened thousands there, will help bring jobs back to the U.S.

"The fact is, it does give businesses yet another thing to consider when they go through their review of their supply chain," Ross said. "On top of all the other things, because you had SARS, you had the African Swine virus there, now you have this. It's another risk factor that people need to take into account. So, I think it will help accelerate the return of jobs to North America, some to the U.S., probably some to Mexico as well."
Virus won't help return jobs to US: experts - Global Times
An outlandish comment by US Commerce Secretary Wilbur Ross, which counted the deadly coronavirus outbreak as a reason for the global supply chain relo-cation and channeling more jobs back to the US, has drawn harsh criticism from netizens and experts on Friday.

Mei Xinyu, an outspoken expert close to China's Commerce Ministry, said Ross' comments amount to "terrorism."
China to Offer Force Majeure Support Amid Virus Impact - Bloomberg
Companies unable to honor international trade contracts or carry out their work on time can apply to obtain certificates needed to declare force majeure, according to the China Council for the Promotion of International Trade's website. The trade council also said it will step up provision of services to enterprises during the epidemic.
China to release vegetable reserves to ensure supply - Xinhua
Major cities in north China should strengthen local market monitoring and release vegetable reserves in a timely manner to ensure residents' daily consumption needs, according to a circular released by the National Development and Reform Commission and the Ministry of Commerce.
China Targets the Coronavirus, and Farmers Pay a Price - The New York Times
"My goal for 2020 isn't growth but survival," said Zhang Huan, an investor and entrepreneur in Guangzhou, a port city just northwest of Hong Kong. "We're all one or two months away from bankruptcy."
Huawei, Xiaomi Research Hubs Paralyzed by Virus Outbreak — The Information $$
Tech companies view Wuhan as a source of talent in part because the city has dozens of universities, including some of China's top engineering schools. Compared with Beijing, Shanghai and Shenzhen, where the cost of living has risen sharply, Wuhan remains an affordable place to live, making it less expensive for companies to hire skilled workers there.
just three days of feed left for Hubei's leading poultry producer
Economic Impact of Coronavirus Will Likely Be Modest - MacroPolo
If the current situation holds steady and containment is effective over the next two to three weeks, then fears will likely abate, minimizing the impact on the economy. Of course, if this core assumption changes dramatically, then this assessment of economic impact will need to be revisited.
---
3. US-China
Secretary Michael R. Pompeo and British Foreign Secretary Dominic Raab Discussion on the Future of the Special Relationship
The Chinese Communist Party presents the central threat of our times.  It is an enormous economy to which the American economy is deeply tied.  There is huge opportunity for us to do really great, creative, innovative business work between our two countries.  But the Chinese Communist Party, under President Xi, has made clear that they have an agenda that is not always consistent with the very values that Dominic and I have been speaking about this morning.
Lessons From Phase One of the Trade War With China | Council on Foreign Relations - Brad Setser
With the phase one trade deal signed—and with China now promising (somewhat credibly in my view) to raise its imports of agriculture and energy above their pre-trade war levels and (less credibly) promising to raise its imports of U.S. manufactures—it is now possible look back at how China decided to respond to Trump's tariff pressure.
U.S. lifts Iran sanctions on one unit of Chinese shipping giant COSCO - Reuters
The U.S. Treasury Department said on Friday it deleted from its sanctions list COSCO Shipping Tanker (Dalian) Co, but continues to blacklist the second unit - COSCO Shipping Tanker (Dalian) Seaman & Ship Management Co Ltd.of COSCO.
DC Metro's next-generation rail cars will not be made in China - The Washington Post
Metro is no longer considering China's state-owned rail-car manufacturer to build its next series of rail cars after Congress, concerned about cybersecurity risks, passed legislation prohibiting transit agencies from making such purchases.
Surveillance Planes, Car Chases, and a FISA Warrant: How a Chinese Immigrant Became a Pawn in America's Technological Cold War With Beijing | Vanity Fair
Robert Mo was tasked by Chinese agricultural company DBN to steal seeds from industry giant Monsanto. In the FBI investigation that followed, Mara Hvistendahl writes in The Scientist and the Spy, nothing was quite what it seemed.
China firmly opposes U.S. House approval of Tibet-related bill: spokesperson - Xinhua
Foreign Ministry Spokesperson Hua Chunying said the so-called "Tibetan Policy and Support Act of 2019" seriously violated international law and basic norms governing international relations, grossly interfered in China's internal affairs and sent a severely wrong signal to the separatist forces of "Tibetan Independence."
Trump ally Steve Bannon producing film 'takedown' of China's Xi Jinping - CNBC
Bannon, who ran President Donald Trump's presidential campaign in 2016, is using millions of dollars in contributions to, in part, help fund the initial production costs of "Emperor: Rise of Xi," according to his nonprofit group's most recent 990 tax return.

"This film will be a devastating takedown of the 'myth of Chairman Xi' including the Wall Street and corporatist faction that props up the regime," Bannon told CNBC.
Interesting filing with the IRS, too bad the contributors are not listed
---
4. Huawei
I think the EU was quite clever in setting out a framework that will likely cause a lot of restrictions on Huawei in 5g but without saying so directly.
EU spares Huawei, Chinese suppliers from blanket 5G ban, defying Trump | Bloomberg
In a set of commonly agreed guidelines on how to mitigate risks stemming from the roll-out of next generation telecoms networks, the EU said companies based in non-democratic countries could be excluded from the procurement of certain core components, following assessments by security agencies.

But despite intense US lobbying, the so-called toolbox of measures released Wednesday does not recommend a pre-emptive blanket ban of Chinese equipment, a decision that follows the UK on Tuesday allowing Huawei components into noncore networks. EU member states have until April 30 to implement the mitigating measures included in the toolbox.
United States Welcomes the EU's Acknowledgement of the Unacceptable Risks Posed by Untrusted 5G Suppliers - United States Department of State
The United States has taken steps to secure its own 5G networks by prohibiting untrusted suppliers, such as Huawei and ZTE, which are subject to the direction of the Chinese Communist Party. Our actions are in line with the EU's assessment that 5G suppliers headquartered in countries without democratic checks and balances may pose an unacceptable security risk.

Each Member State will be responsible for protecting its network. It is misguided to think that the risks associated with installing equipment from suppliers subject to control by authoritarian regimes with a track record of malign cyber behavior can be mitigated. We call on our European allies and partners to implement the EU recommendations by adopting strong, risk-based security measures excludes high-risk suppliers from all parts of their 5G networks.
'Better than we hoped for' as UK, EU leave door partially open for Chinese tech firm Huawei | South China Morning Post
"It's better than we could've hoped for," said one Huawei insider, who asked not to be named. "Europe, after all, had to choose sides between China and the US."
5G choices: a pivotal moment in world affairs | The Strategist - Simeon Gilding
I was part of the team in the Australian Signals Directorate that tried to design a suite of cybersecurity controls that would give the government confidence that hostile intelligence services could not leverage their national vendors to gain access to our 5G networks.

We developed pages of cybersecurity mitigation measures to see if it was possible to prevent a sophisticated state actor from accessing our networks through a vendor. But we failed.

We asked ourselves, if we had the powers akin to the 2017 Chinese Intelligence Law to direct a company which supplies 5G equipment to telco networks, what could we do with that and could anyone stop us?

We concluded that we could be awesome, no one would know and, if they did, we could plausibly deny our activities, safe in the knowledge that it would be too late to reverse billions of dollars' worth of investment.
Huawei denies German report it colluded with Chinese intelligence - Reuters
"At the end of 2019, intelligence was passed to us by the U.S., according to which Huawei is proven to have been cooperating with China's security authorities," the newspaper cited the document as saying.
---
5. How many US academics may get in trouble over Thousand Talents?
Harvard Chemistry Chair Placed on Leave After Federal Gov. Charges He Hid Chinese Funding | News | The Harvard Crimson
Lieber appeared at his Tuesday hearing in a Boston courtroom in shackles and will remain in federal custody until another hearing Thursday, the Boston Globe reported.

Lieber, who studies nanotechnology, has had an illustrious academic career at Harvard. He serves as a University Professor, among Harvard's highest academic honors, and has won numerous prizes for research.

At a Faculty of Arts and Sciences meeting in November, Dean of Science Christopher W. Stubbs announced that, following National Institutes of Health inquiries into academic espionage nationwide, the University and FAS formed two new oversight bodies. One reviews sensitive research projects, and the other examines FAS policies to ensure the school complies with guidelines set forth by federal funding agencies, including the administration of federal research grants.'
The FBI affidavit, quite a read
China's Funding of U.S. Researchers Raises Red Flags - WSJ
When officials at the Texas A&M University System sought to determine how much Chinese government funding its faculty members were receiving, they were astounded at the results—more than 100 were involved with a Chinese talent-recruitment program, even though only five had disclosed their participation.
Chinese People's Liberation Army lieutenant, Yanqing Ye, assessed US military websites, researched professors while studying at Boston University, federal authorities say - masslive.com
"Ye falsely identified herself as a 'student' and lied about her ongoing military service at the National University of Defense Technology (NUDT), a top military academy directed by the CCP," the U.S. Attorney's Office said.
Chinese national Zaosong Zheng accused of stealing vials of biological materials from Beth Israel Deaconess Medical Center, trying to smuggle the items to China - masslive.com
A Chinese researcher has been accused of trying to smuggle vials of biological materials out of the country that authorities allege he stole from Beth Israel Deaconess Medical Center in Boston.
---
6. Massive New York Times Magazine Uighur story
Her Uighur Parents Were Model Chinese Citizens. It Didn't Matter. - The New York Times Magazine
When Zulhumar Isaac's parents disappeared amid a wave of detentions of ethnic minorities, she had to play a perilous game with the state to get them back.
What a read.
---
Business, Economy and Trade
Airbus Agrees to Pay over $3.9 Billion in Global Penalties to Resolve Foreign Bribery and ITAR Case|Department of Justice The FCPA charge arose out of Airbus's scheme to offer and pay bribes to foreign officials, including Chinese officials, in order to obtain and retain business, including contracts to sell aircraft. //which officials?
The Crypto Mogul Who's Got the Ear of China's Central Bank - Bloomberg Li co-founded Huobi in the fall of 2013 and later received backing from well-connected ZhenFund and Sequoia China. But the tale of how he and Huobi came to occupy its privileged position really begins in 2017, at the height of Beijing's paranoia about the potential for unchecked Bitcoin speculation to foment social upheaval.
Mohammed Nuru, head of SF Public Works, arrested in FBI corruption probe – The San Francisco Examiner Nuru allegedly accepted gifts and travel accommodations from an unnamed Chinese developer who was working on a major project in San Francisco. "Thank you very much for all your generosity while we were in China," Nuru allegedly messaged the developer in 2018. "We had a great vacation and my daughter had a wonderful time. I will do my very best to see that your project gets completed."
China Lithium Giant Faces Debt Mountain After Deal at Cycle Top - Bloomberg After borrowing billions to fund an overseas expansion to ride a lithium boom, a collapse in prices has left one of the world's top producers straining under a mountain of debt. Valued at more than $6 billion, Tianqi Lithium Corp.'s predicament highlights the risks of boom-and-bust cycles in commodity markets that can punish mistimed or over-extended ventures, even in sectors fated to become dominant.
Politics and Law
Xi Jinping's New "Little Red Book(s)" - Bitter Winter Third-grade high school students in the southeastern province of Fujian were recently given by their teacher a list of "100 Xi Jinping's Golden Quotes" and were asked to memorize them. "If we put quotes from Uncle Xi's speeches in our compositions, teachers won't dare give us low grades," one of the students said with irony.
China's top procuratorate issues guideline on handling cases amid coronavirus outbreak - Xinhua While battling the epidemic, case files should be examined mainly in written form to reduce the flow of people, gatherings and face-to-face talking, the guideline said, adding that procedures including interrogating suspects, questioning witnesses and listening to defense lawyers' opinions can be conducted by telephone or video.
Foreign and Defense Affairs
China's National Immigration Administration responds to public concerns during coronavirus pneumonia prevention, control period - ECNS According to Exit and Entry Administration Law of the PRC, foreigners should exit China or apply for extension at the EEA authorities before the visa, stay or residence permit expires. In light of the relevant laws and regulations and current situation, those who are unable to exit as scheduled or extend the visas, stay or residence permits due to the reason of epidemic prevention and control shall be given a lighter or mitigated or be exempted from punishment by the EEA authorities depending upon circumstances.
Swedish media calls for action against attacks from Chinese officials | The GuardianIn a strongly worded statement, Utgivarna, which represents Sweden's private and public sector media, complained that journalists had been put under intense pressure by Chinese government representatives. "Time and again, China's ambassador Gui Congyou has tried to undermine the freedom of the press and the freedom of expression under the Swedish constitution with false statements and threats," the statement read.
China Demands Apology From Danish Newspaper Over Virus Cartoon - BloombergThe Chinese Embassy to Denmark wants the newspaper Jyllands-Posten to apologize for publishing a drawing that depicts China's flag with virus symbols instead of five stars. 丹麦漫画侮辱国旗续:首相傲慢回应 中国大使反击_网易新闻
Russia completes delivery of second S-400 regimental set to China, says report | Jane's 360 Quoting an unnamed military diplomatic source, TASS reported that the regimental set consisted of "two divisions of launch devices, radio-location stations, energy and service equipment, spare parts, and instruments", adding that "the client [China] also received more than 120 advanced anti-aircraft guided missiles of two types".
EU opens internal investigation over German spy suspect – POLITICO EU officials have been considering how to respond to the German investigation into Sabathil, who worked for decades for the European Commission and the EEAS. Officials were unsure whether to leave the matter to the German authorities or launch their own inquiry.