US-China may have new round of talks; Did Ant Financial raid Equifax?; Maduro goes begging to Beijing; Provincial pork shortage from ASF; Propaganda in the New Era; Apple may have stepped in it
The US and China may be talking again about a trade deal. The Wall Street Journal broke the story that Treasury Secretary Mnuchin has invited Liu He to another round of talks. The Chinese have not yet accepted but it sounds like they will.
Liu was embarrassed at the end of May when President Trump blew up what Mnuchin and Liu thought was a deal and so Mnuchin has little to no credibility in Beijing now. If Liu does travel to DC then there likely were assurances made via Trump or his closest advisors that this time would be different. 
We'll see, hope to get some more insight for you over the coming days.
Thanks for reading.
---
The Essential Eight
1. US-China
U.S. Proposing New Round of Trade Talks With China - WSJ:
The invitation from Treasury Secretary Steven Mnuchin comes as some Trump officials said they sense a new vulnerability—and possibly more flexibility—among Chinese officials pressured by U.S. tariffs imposed earlier this year and threats for more...

Chinese officials said they have grown wary of the Trump administration's unpredictable decision-making process and may be hesitant to accept without a clear sign U.S. negotiators have authority to speak for the president.

The U.S. administration sent the invitation this week to a group of Chinese officials headed by Vice Premier Liu He...

People who have followed the Trump administration's China trade strategy closely cautioned against casting the invitation as a major breakthrough, saying the administration remained divided internally on its China strategy. They said talks would be unlikely to derail a planned round of tariffs on $200 billion in Chinese goods..

The U.S. outreach to Beijing has once again divided Mr. Trump's top aides, people familiar with the discussions said.
Beijing welcomes goodwill gesture from Washington for talks in sign of deescalation of trade war - POLITICO:
Gao Feng, a spokesman with China's Ministry of Commerce, said Beijing had received the invitation and the details were being discussed.

"An escalating trade war is not beneficial to the two nations," Gao said.

China's foreign ministry spokesman Geng Shuang said China welcomed the invitation from Washington.
商务部:中方确已收到美方邀请,双方正就具体细节进行沟通-新闻-上海证券报·中国证券网:
高峰在商务部当日召开的新闻发布会上说,中美经贸磋商团队近来一直保持着各种形式的沟通,双方就各自关注的问题进行了交流。中方认为,贸易冲突升级不符合任何一方的利益。
PRC media coverage makes clear the US has asked for these talks--美国主动邀请中方进行新一轮贸易谈判 
U.S. firms in China feeling 'clear and far reaching' trade war pinch: survey | Reuters:
The negative impact of the tariffs on U.S. companies has been "clear and far reaching", according to the joint survey by AmCham China and AmCham Shanghai published on Thursday.

More than 60 percent of U.S. companies polled said the U.S. tariffs were already affecting their business operations, while a similar percentage said tariffs by China on U.S. goods were having an effect on business…

More than 52 percent of respondents to the survey reported already suffering the consequences of such measures, mainly through increased inspections, slower customs clearance and "other complications from increased bureaucratic oversight or regulatory scrutiny".
The "qualitative measures"…
Ex-San Diegan Peter Navarro 'Source of All Chaos,' Says Bob Woodward Book 'Fear' - Times of San Diego:
On Sept. 26, 2017, Kelly called a "meeting of the combatants," with Stephen Miller joining Navarro and Porter siding with Cohn.

Navarro began by complaining that he had been promised during the campaign to be an assistant to the president, but ended up as a deputy assistant, heading the new White House National Trade Council.

Cohn pushed back, Woodward writes.

"Peter's out there going rogue," Cohn is quoted as saying. "He's telling the president lies. He's totally unchecked. He's the source of all the chaos in this building."

Kelly hears Navarro's rebuttal — "Gary's just a globalist. He's not loyal to the president" — but soon ends the snipefest.
Cohn is gone, Trump seems to love Navarro…
---
2. Sino-Russia ties
Spotlight: Xi's Vladivostok trip injects fresh vigor into China-Russia ties, regional cooperation - Xinhua:
During Xi's visit, Xi and Putin charted the course for bilateral pragmatic cooperation in the next phase -- strengthening the synergy of the Belt and Road Initiative and the Eurasian Economic Union, expanding cooperation in such fields as energy, agriculture, scientific and technological innovation and finance, promoting the steady implementation of major projects, and boosting joint research and development of cutting-edge science and technology.

The two leaders also made concrete efforts to promote bilateral sub-national cooperation. They attended a roundtable meeting on regional cooperation and visited "The Far East Street" exhibition showcasing the rich local cultural exchanges between the two countries and investment opportunities in Russia's Far East regions.
Russia and China Will Now Hold Military Exercises "On a Regular Basis" | The National Interest:
Not only do Russian president Vladimir Putin and Chinese president Xi Jinping seem to have established a good personal rapport, the Russian military and the People's Liberation Army are set to conduct massive wargames such as Vostok-2018 exercises on a regular basis in the future. Russian defense minister Gen. Sergei Shoigu said as much when he hosted his Chinese counterpart Gen. Wei Fenghe during a visit to the Tsugol training ground as a part of Vostok-2018 . "We have agreed to hold such exercises on a regular basis," Shoigu said in a statement.

Wei, for his part, also stressed the importance of Sino-Russian "cooperation on operational and strategic levels." The Chinese military and political leadership in Beijing consider such cooperation with the Russians to be particularly important, according to the Russian Defense Ministry statement.
Putin attends Russia-China war games - AP:
He emphasized that "Russia is a peaceful nation," but noted that the country needs to strengthen its military capability to "be ready to protect its sovereignty, security and national interests, and, if necessary, support our allies."

The Chinese media have described the People's Liberation Army involvement in the drills as the country's largest-ever dispatch of forces abroad for war games.
Xi, Putin call for promoting China-Russia youth friendship - Xinhua:
Chinese President Xi Jinping and Russian President Vladimir Putin visited All-Russian Children's Center "Ocean" here on Wednesday to promote friendship between the two countries' youths.

The two leaders attended commemoration events marking the 10-year anniversary of the center's hosting of hundreds of Chinese children from regions hit by a deadly earthquake in 2008.

Calling China and Russia good neighbors and good partners that are linked by mountains and rivers and pull together in times of trouble, Xi said the peoples of China and Russia have helped each other and shared weal and woe, leaving many touching stories to tell.
Why China's investment play into Russia may endure | Financial Times $$:
Geopolitics, long the bane of western investors in Russia, is now a boon for Chinese capital. President Donald Trump's assault on China's economy through trade tariffs and tough talk has seen Beijing keen for new economic alliances. Helpful, then, that its northern neighbour is also under attack from the same adversary.

Russia, increasingly cut off from western cash thanks to US sanctions, needs the money. And what it has to sell — energy, agriculture, weaponry and access to 150m consumers — are conveniently all things on China's shopping list.
Pentagon downplays growing military bonds between China, Russia | Jane's 360: 
Speaking to reporters on 11 September at the Pentagon, US Defence Secretary Jim Mattis acknowledged recent co-operation between Russia and China in joint military drills, saying, "Nations act out of their interests."

However, he added, "I see little in the long term that aligns Russia and China."
Comment: One long-term interest the two share is to degrade US power and influence globally
---
3. More attention for plight of the Uyghurs
Speaking out: Uygurs in the United States break silence on China's crackdown | South China Morning Post:
Hoshur lives in northern Virginia's Fairfax County, an area he called the "headquarters" of the US Uygur diaspora and estimates is home to up to 5,000 Uygurs.

His focus on the crackdown extends far beyond his role as a journalist, with several members of his family held in re-education camps, including his son and daughter, he said.

"My life is inside this, as a victim, as an activist, as a reporter," Hoshur said.

While he believes that international attention on the issue of mass detention is nowhere enough, he said Uygurs felt "inspired" by the recent UN hearing and ensuing media scrutiny.

Many Uygurs, Hoshur said, had given up hope that any action they took would ever command the world's attention. They believed that "whatever we do, the world doesn't care", he said. "They say China is very strong."
Anwar Is `Appalled' by Suu Kyi, Criticizes China's Muslim Camps - Bloomberg:
While Malaysia's government raised the Uighur issue with China, officials in Beijing view it as an "internal issue," Anwar said. "This has gone out into the mainstream media as an issue, and I believe we should use a proper forum to start highlighting these issues and seek this understanding from the Chinese authorities." Anwar's comments amount to some of the strongest yet from a senior political leader in Asia condemning abuses of Muslim minorities.
Chairs Urge Commerce Secretary to Expand U.S. "Entity List" to Include Chinese Government and State Security Entities in Xinjiang | Congressional-Executive Commission on China:
U.S. Senator Marco Rubio (R-FL) and U.S. Representative Chris Smith (R-NJ), Chair and Cochair of the bipartisan Congressional-Executive Commission on China respectively, released today a letter urging U.S. Commerce Secretary Wilbur Ross to expand the U.S. Government's "Entity List" (Supplement 4, Part 744 of the Export Administration Regulations) to include Chinese government and state security entities in the Xinjiang Uyghur Autonomous Region (XUAR), as well as any businesses profiting from the expansion of the region's surge in security spending. The Chairs conclude that the "abuses occurring in the XUAR are contrary to the national security interests of the United States. U.S. companies should not be assisting in the expansion of China's systems for surveillance, detection, and detention, or be complicit in what are gross violations of internationally recognized human rights occurring daily in the XUAR."
Chinese official says China is educating, not mistreating, Muslims | Reuters:
"It is not mistreatment," said Li Xiaojun, director for publicity at the Bureau of Human Rights Affairs of the State Council Information Office. "What China is doing is to establish professional training centres, educational centres."

"If you do not say it's the best way, maybe it's the necessary way to deal with Islamic or religious extremism, because the West has failed in doing so, in dealing with religious Islamic extremism. Look at Belgium, look at Paris, look at some other European countries. You have failed."..

"To put it straight, it's like vocational training ... like your children go to vocational training schools to get better skills and better jobs after graduation.
Comment: Has anyone asked Li if he would send his child to one of these "vocational schools"?
---
4. Did Ant Financial raid Equifax?
Before It Was Hacked, Equifax Had a Different Fear: Chinese Spying - WSJ $$:
In the previously undisclosed incident, security officials feared that former employees had removed thousands of pages of proprietary information before leaving and heading to jobs in China. Materials included code for planned new products, human-resources files and manuals.

Equifax went to the Federal Bureau of Investigation and the Central Intelligence Agency. Investigators from the company and the FBI came to view events at Equifax as potentially a huge theft of data—not of consumers' personal data, as happened with the subsequent 2017 hacking of Equifax's files, but of confidential business information...

One of the former employees Equifax and the FBI investigated in connection with a possible business-information theft was Daniel Zou, who worked in Toronto. The company he joined in China was Ant Financial, a fast-growing financial-technology affiliate of Alibaba Group Holding Ltd. , founded by billionaire Jack Ma.

Both Ant and Mr. Zou denied any involvement in taking proprietary Equifax data. Alibaba referred questions to Ant...

According to the people familiar with the probe, the investigators, by talking to Equifax employees and examining email accounts and LinkedIn messages sent to them, saw indications that recruiters purporting to represent Ant affiliate Alibaba had offered to triple salaries for certain ethnically Chinese Equifax employees—and provided instructions on specific Equifax information they should bring along if they jumped ship...
Ant Financial denies use of Equifax IP to develop Sesame Credit rating system | South China Morning Post:
"We did not directly or indirectly encourage potential job applicants to obtain Equifax intellectual property or trade secrets," said Chen Leiming, Ant Financial's general counsel, in a statement. "This would be a violation of Ant Financial's Code of Business Conduct and we would take immediate action against any employee found engaging in this behaviour."
---
5. Maduro goes begging to Beijing
Amid Venezuela's Woes, Maduro Comes to China to Close Deals - Caixin Global:
During its regular news briefing on Thursday afternoon, Chinese Foreign Ministry spokesman Geng Shuang said Xi will meet with Maduro and participate in a signing ceremony, but did not elaborate. He said government departments and companies of both countries are now finalizing deals that will be disclosed soon.

Venezuelan Vice President Delcy Rodriguez and several other senior Venezuelan officials have been in Beijing since Monday, meeting China Development Bank President Zheng Zhijie and China National Petroleum Corp. (CNPC) President Zhang Jianhua.
Maduro tweeted the following on the recent anniversary of Mao Zedong's death:
42 years ago, the Great Chinese revolutionary, Mao Tse Tung, died. A communist leader and the first president of the People's Republic; his government dignified the people of the countryside. Mao gave us a legacy of an anti-imperialist struggle [...] https://t.co/Nq8wdsAGNL
September 9, 2018
China to Give Venezuela $5 Billion Loan as Maduro Visits Beijing - Bloomberg
:
China agreed to extend a $5 billion credit line to cash-strapped Venezuela, the country's finance minister said, as President Nicolas Maduro headed to Beijing.

Venezuelan Finance Minister Simon Zerpa told Bloomberg News on Thursday that the country would pay back the loan with either cash or oil. The countries were expected to sign what Zerpa described as a strategic alliance on gold mining.
Comment: China is already so deep into Venezuela, does it have much of a choice?
---
6. African Swine Flu causing pork shortages
Chinese province scrambles to find pork amid swine fever lockdown | Reuters
The efforts of officials in the southern province of Zhejiang highlight the stress felt in China's major pork consuming provinces as measures to control the disease outbreak have stranded pigs at farms, leaving slaughterhouses short of stock.

Pork prices in the country's populous south have risen as China's vast pig market is locked down in the fight against the highly contagious African swine fever.

Officials at Zhejiang's provincial animal husbandry bureau have asked their counterparts in neighboring Shandong province for help in securing pork supplies, according to a document dated Sept. 11 and reviewed by Reuters.
Question: When will they start using the strategic pork reserve?
China bans feeding of food waste to hogs in provinces with African swine fever | Reuters:
The use of pig blood as a raw material in producing feed for pigs has also been banned, The Ministry of Agriculture and Rural Affairs said in a statement online.
---
7. Propaganda in the New Era
An interesting deep dive from Macro Polo.
In Xi We Trust: How Propaganda Might Be Working in the New Era - MacroPolo:
In this analysis, we seek to make sense of what we have dubbed "Propaganda in the New Era," examining what has changed (or not) during Xi's tenure across several dimensions: bureaucracy, funding, content, and effectiveness. We mainly focus on propaganda work aimed at domestic audiences rather than on efforts to project China's soft power externally. Combining a range of data and qualitative analysis, we present as best an assessment as we can of how CCP propaganda under Xi (1) has been increasingly controlled by Party rather than state bureaucracies; (2) has received increased funding; (3) has markedly improved content quality; and (4) has shown effectiveness in raising levels of public trust in the Chinese government.
---
8. Apple may have stepped into it
Apple angers Chinese customers for listing Hong Kong, Taiwan on par with China - Global Times:
Chinese netizens have urged Apple to abide by the one-China principle, after the company listed Hong Kong and Taiwan on par with China on its latest new product announcement conference.

Hong Kong and Taiwan are inalienable parts of China, a fact that the United Nations recognizes.

Since the conference listed the US Virgin Islands on par with the US, Chinese netizens wonder why Apple can't place China in front of Hong Kong and Taiwan.
The offending slide, still not clear this will really become a huge issue: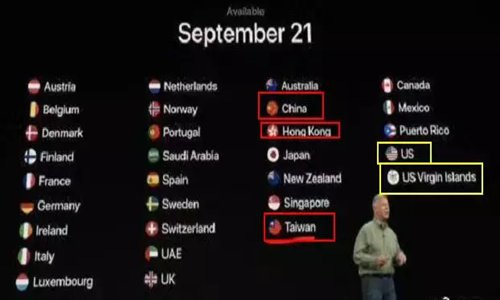 Apple Finally Gets How to Play the China Market - Bloomberg:
In China, Hong Kong and Macau, however, Apple is offering a model with two nano-SIM cards. This is likely to get around local restrictions on the use of eSIMs. On its English-language website, Apple mentions dual nano-SIMs only for the top-end XS Max model, whereas the China website also shows availability for the low-end XR. That's a very interesting strategy, nodding to the fact that some customers want two SIMs to chase better telco prices, while others want them for the dual phone numbers.
Apple's China App Store Loophole — The Information $$:
Game developers, lawyers and analysts interviewed by The Information say games can be sold in Apple's Chinese App Store even without domestic licenses. It's a loophole in China's rules that is widely known but whose reasoning isn't understood. And it has taken on greater significance lately, as Beijing has been tightening its control over the domestic games market, suspending approvals of licenses for new games pending a reorganization of its media regulator
---
Business, Economy, Finance And Trade
China steps up social security collection as it cuts corporate taxes | Financial Times $$ Now, as part of a broader overhaul of its personal income tax system, China is transferring authority for collecting such contributions from local social security bureaux to local tax authorities, which have stronger enforcement capabilities. The change takes effect at the beginning of 2019. "Tax agencies will definitely be tougher, so this will increase the burden for companies," said Ma Guangrong, public finance professor at Renmin University's School of Finance in Beijing.
Toyota Is Said Ready to Share Hybrid-Car Secrets With China - Bloomberg Chinese officials asked Toyota to share its gasoline-electric technology to help local companies meet stricter emissions targets, people familiar with the matter said, asking not to be named because the talks are private. Seeing this as a chance to make inroads in China, Toyota has engaged in advanced talks to license its hybrid system to Chinese carmaker Geely Automobile Holdings Ltd., two of the people said.
Two More ICBC Branches in Hubei Caught Dodging Lending Caps - Caixin Global The investigations, which all involve bankers sidestepping regulatory lending caps, raise questions about the risk-management practices of Industrial and Commercial Bank of China (ICBC) at a time when regulators were turning a blind eye to "shadow banking." The colossal growth in these loosely regulated and opaque activities outside the formal banking system has left regulators worried about growing leverage and liquidity risks to China's financial system.
Decoupling of business licenses and operation permits to go nationwide - Gov.cn China will roll out the decoupling of business licenses and operation permits, which are both required for starting business operations, as a nationwide program starting this November, and further cut production permits for industrial goods by over one third, in an effort to ease corporate burdens, the State Council's executive meeting chaired by Premier Li Keqiang decided on Sept 12.
Plan to upgrade China-ASEAN trade agreement unveiled - China Daily China will work with the Association of Southeast Asian Nations to upgrade a strategic partnership and build a closer community of a shared future, Vice-Premier Han Zheng said at the opening ceremony of the 15th China-ASEAN Expo in Nanning, capital of the Guangxi Zhuang autonomous region, on Wednesday. China welcomes ASEAN countries aboard the express train of China's economic development, Han said, and will share the dividends of economic growth with ASEAN. Han announced that China will work with ASEAN to upgrade the China-ASEAN Free Trade Agreement signed in 2004 and accelerate talks for the Regional Comprehensive Economic Partnership.
Anbang Offloads Brokerage to State-Owned Consortium - Caixin Global On Sept. 12, state-owned Xiamen International Trade Group Corp. Co. Ltd. announced that it has formed a consortium with state-owned peer Shenzhen Qianhai Financial Holdings Co. Ltd. to jointly acquire Anbang's 91.65% stake in Century Securities. They will pay a minimum of 3.6 billion yuan ($524 million), according to Qianhai's filing (link in Chinese) with the Shanghai Stock Exchange.
China's HNA defaults on Rmb300m owed to Hunan Trust | Financial Times $$ The announcement by Hunan Trust is a sign that HNA's liquidity woes are beginning to have a broader impact outside China's formal banking sector. The company is already under strict supervision by a group of bank creditors, led by China Development Bank, following a liquidity crunch in the final quarter of last year.
China's Sovereign-Wealth Fund Interested in Buying HNA's Deutsche Bank Stake - WSJ $$ HNA, which is one of Deutsche Bank's largest shareholders, is planning to unload its entire 7.6% stake in the German bank as part of a plan to shrink its global footprint, the Journal previously reported. The potential buyers that were recently in contact with HNA include state-backed fund China Investment Corp., as well as Chinese state-owned financial institutions Citic Group, China Merchants Group and China Everbright Group, the people said. Some European and U.S. investors have also inquired about HNA's stake in Deutsche Bank, they added.
China Unveils Shake-Up of Credit Ratings Industry After Scandal - Caixin Global Supervision over the sector, which is dominated by local firms, will be beefed up through measures that include unifying the regulation of companies that rate bonds listed on the interbank market and stock exchanges, according to a notice released by the People's Bank of China (PBOC) and China Securities Regulatory Commission (CSRC) on Tuesday. The notice listed guidelines that the PBOC said would "promote the interconnection of the bond market and the orderly development of the credit rating industry."
Fosun acquires 80 per cent stake in diamond grading institute IGI | Financial Times $$ Chinese conglomerate Fosun has acquired an 80 per cent stake in the International Gemological Institute, a diamond grading organisation whose expertise Fosun says it wants to bring to the Chinese market. Belgium-based IGI, which operates 23 laboratories and schools globally, is one of the two main organisations that certifies diamonds and others gems for their cut, colour, clarity and weight. The founding Lorie family will retain a 20 per cent stake in the company, IGI said.
Politics, Law And Ideology
At Least 11 Die as Driver Plows Into Crowd in China - The New York Times The police identified the driver as Yang Zanyun, 54. According to Beijing Youth Daily, he had been jailed at least six times since 1992 on charges that included drug dealing, extortion and arson.
China's New History Textbook: Mao's Cultural Revolution No Longer a Mistake – Chinascope  Chinese netizens were the first who exposed the particular revision in the new textbook. In the old edition, the relevant part read: "In the 1960s, Mao Zedong erroneously believed that there was Revisionism in the party's Central Committee and that the party and the country were facing the danger of capitalist restoration. In order to prevent the restoration of capitalism, he decided to launch the 'Cultural Revolution.'" In the new textbook, the wording became: "In the mid-1960s, Mao Zedong believed that the party and the country were facing the danger of capitalist restoration. To this end, he emphasized 'taking class struggle as the key' and trying to prevent it by launching the 'Cultural Revolution.' In the summer of 1966, the 'Cultural Revolution' was in full play."
Draft regulation to maintain authority of on-duty police - Global Times The Ministry of Public Security has started soliciting opinions on the draft Regulations on Maintenance of the Authority of Public Security Organs in Law Enforcement, the Xinhua News Agency reported Sunday.  The draft specifies that the authority of the police should be guaranteed in violent attacks like being hit, rolled, dragged, or smashed by vehicles or being obstructed or crushed by people. Being detained, bitten or pulled should also be protected, the draft stipulates.
Public Security Organs Provisions on Preserving the Authoritativeness of Law Enforcement Work by the People's Police (Draft)
Foreign and Military Affairs

North Korea Designations - OFAC The following entities have been added to OFAC's SDN List:   VOLASYS SILVER STAR, 41 Ulitsa Klary Tsetskin, Vladivostok, Russia [DPRK3] [DPRK4].   YANBIAN SILVERSTAR NETWORK TECHNOLOGY CO., LTD. (Chinese Simplified: 延边银星网络科技有限公司; Korean: 은성인터네트기술회사) (a.k.a. CHINA SILVER STAR INTERNET TECHNOLOGY COMPANY; a.k.a. SILVER STAR INTERNET TECHNOLOGY CORPORATION; a.k.a. UNSONG INTERNET TECHNOLOGY CORPORATION; a.k.a. YANBIAN SILVER STAR; a.k.a. YANBIAN SILVERSTAR), 20998B-26 Changbaishan East Road, Yanji, Jilin, China [DPRK3] [DPRK4]. // A Chinese firms that was used in North Korean hacking? They were just added to the US Treasury's Specially Designated Nationals List
Chinese FM to visit Vietnam, Philippines - Global Times Chinese State Councilor and Foreign Minister Wang Yi is expected to kick off his visit to Vietnam and Philippines over the weekend, leading Chinese analysts to note that his trip will further boost understanding, help manage disputes in the South China Sea and maintain hard-won stability in the region. Wang is scheduled to chair the 11th meeting of the China-Vietnam steering committee on cooperation in Vietnam, and he will also visit the Philippines during his two-nation trip from Saturday to Tuesday, Chinese Foreign Ministry spokesperson Geng Shuang said at a daily briefing on Wednesday.
Pakistan Pushes China to Realign Goals in Its Belt-and-Road Initiative - WSJ $$ As its relationship with the U.S. has soured, Pakistan has grown increasingly dependent on China. Despite advocating changes in the Chinese initiative, government officials have avoided the more direct criticism of China that recently has surfaced in Malaysia. A minister who suggested this week that Pakistani business hadn't benefited, and advocated putting new projects on hold, quickly took back his words. "We're not limiting CPEC, we're expanding it," said Chaudhry Fawad Hussain, the information minister. "Our government's priorities are not infrastructure, but industrialization and human skills development."
Insult to injury: Nepal to now join military drill with China - Times of India Nepal Army spokesperson Brig Gen Gokul Bhandaree told TOI on Monday that the second such joint exercise with China, Sagarmatha Friendship-2, was going to take place from September 17 to 28 in Chengdu.
Audio - The Great Australian China Debate: Issues and Implications for the United States and the World | National Security College On Monday 10 September, Professor Rory Medcalf, delivered a lecture to the Sigur Center of Asian Studies, Elliot School of International Affairs, The George Washington University, titled The Great Australian China Debate: Issues and Implications for the United States and the World.
China hasn't changed belt and road's 'predatory overseas investment model', US official says | South China Morning Post Ray Washburne, president and CEO of the Overseas Private Investment Corporation (OPIC) – an intergovernmental agency that channels US private capital into overseas development projects in the form of loans, funds and political insurance – said on Wednesday that China did not appear to be changing its modus operandi. "I haven't seen it," Washburne said. "[China is] not in it to help countries out, they're in it to grab their assets."
The political significance of China's latest commitments to Africa - Yun Sun As a political event, the FOCAC Summit usually reflects China's current priorities in foreign strategy. The Beijing Summit was no exception. In the eight days during and around the summit, Chinese President Xi Jinping met with every leader from the 53 African countries present at the event, emphasizing a Sino-Africa Community of Common Destiny. Judging from the statements, the summit advanced two political messages. Externally, China is making serious efforts to consolidate African countries' support of China's international agenda, especially in light of the Trump administration's China and trade policies. Internally, between China and Africa, China is upping its game on Africa's capacity building, a phrase currently spearheaded by China's soft power campaign and effort to promote the Chinese model of political and economic development in developing countries.
Reporter's notebook: Flying with the US military as it keeps tabs on China over the South China Sea - ABC News - PACOM seems to ramping up journalist tours of the SCS? //  In order to burn less fuel, the pilots flew at an altitude of about 20,000 feet. They told us they could fly as low as 200 feet, but that it wouldn't be of much benefit. We also flew about 20 miles from the islands in order to avoid serious confrontation with China's military — a conservative distance, considering international law stipulates we can't fly closer than 12 miles. The crew didn't want to risk it...Despite this kindness and respect, China did not keep quiet. We heard warnings over the radio six times, both in Chinese and English. Each time it was almost the same message, noting that we were in a "U.S. military aircraft" and cautioning us to "leave immediately."  //  Kindness and respect?
Taiwan
Taiwan's fishing industry faces claims of 'hell' on the high seas | Financial Times $$ The 27-man, mostly-Indonesian crew's ordeal — documented in a probe by Environmental Justice Foundation (EJF), a British non-governmental organisation — not only suggests that labour abuse and environmental pillage still plague the global fisheries business, it also signals that an overhaul of Taiwan's laws and closer international monitoring have failed to rein in the industry's darker side, environmental experts said.
Tech And Media
Backer of Hot New Messaging App Says WeChat Wanted to Invest - Caixin Global Smartisan chief Luo Yonghao claims that the investment team from Tencent Holdings Ltd. had approached Bullet Message several times to request "meetings, communication or collaboration
Fans ejected from Dua Lipa Shanghai concert over gay-rights flags | Music | The Guardian Footage posted on social media shows audience members being forcefully removed from Dua Lipa's performance in Shanghai on 12 September. Users claim that fans were targeted for dancing in their seats and waving flags in support of gay rights. The videos show security staff pulling people from their seats, and crowd members apparently being attacked by security guards outside the National Exhibition and Convention Center in the city's Qingpu district.
Meituan Is Said to Raise $4.2 Billion in Latest Big Tech IPO - Bloomberg China's second largest tech startup priced its sale of 480.27 million new Class B shares at HK$69 apiece, the people said, asking not to be identified because the information is private. That price tag, compared with an offer range of HK$60 to HK$72, values Meituan at roughly $48 billion, according to Bloomberg's calculations.
Feature: AI plots future of smart cities - Xinhua The AI technology of City Brain is being promoted in five other Chinese cities, and in Singapore and Malaysia. The trials show it can almost halve ambulances and fire engine journey times. City Brain will be able to process power and water supply data in order to save resources and improve efficiency, according to Alibaba, the e-commerce giant.
Society, Art, Sports, Culture And History
Chinese kindergarten asks children how much their homes cost | South China Morning Post Questions distributed to a class at BUJI The Dream of Children Kindergarten in Shenzhen last Friday included "does your family own the apartment you live in, or rent it?", "what is the floor plan of the apartment?" and "how much did your family pay for the apartment and what is its market value now?", according to photographs of the questionnaire circulating online.
As Chinese school year starts, some Beijing residents find their kids can't get admission | Reuters In the past year, Beijing has evicted a legion of status-less migrant workers and relocated hundreds of factories to cut down on what it calls an "urban disease" of over-population. Its number of registered residents saw a rare, albeit small, decline last year to 21.7 million. But now, some long-term, tax-paying middle-class families are moving out because new rules have made it difficult for children to get admission in city schools.
Melting Away - Sixth Tone beautiful piece on the Evenki
Yang Fudong: Shanghai is 'dream-like and full of passion' - CNN Style Yang Fudong is one of Shanghai's most famous residents. The acclaimed visual artist has spent the last two decades in the "Pearl of the Orient," building an illustrious career around poetic films and images that have been collected and exhibited at major institutions worldwide.
Bay Area cops are China's newest internet celebs - Inkstone: The San Leandro Police Department has 7,200 likes on Facebook and 4,400 followers on Twitter.  But on the Chinese social site Weibo, it has a following of 300,000 – more than three times the city's population.// The Weibo account - SLPD聖利安住市警察局 
Energy, Environment, Science And Health
EU officials clash with Chinese firm on drug factory inspection | Reuters: European medicines regulators have issued a notice that an ingredient for a generic brain cancer drug made in China does not meet manufacturing standards, after inspectors were refused entry to a factory run by Jiangsu Yew Pharmaceutical Co. Ltd. The incident, reported in a notice published this week on a database maintained by the European Medicines Agency, is the latest example of regulatory problems with bulk pharmaceutical substances manufactured in China.
Chinese Researchers Are Outperforming Americans in Science - Bloomberg Qingnan Xie of Nanjing University of Science & Technology and Richard Freeman of Harvard University have studied China's contribution to global scientific output. They document a rapid expansion between 2000 and 2016, as the Chinese share of global publications in physical sciences, engineering and math quadrupled. By 2016, the Chinese share exceeded that of the U.S. Furthermore, the authors argue that these metrics -- which are based on the addresses of the authors -- understate China's impact. The data don't count papers written by Chinese researchers located in other countries with addresses outside China and exclude most papers written in Chinese publications. The researchers adjusted for both factors and conclude that Chinese academics now account for more than one-third of global publications in these scientific fields.
Planned Parenthood picks Chinese-born doctor as new leader - AP A Chinese immigrant who fled her native country when she was 8 was named Wednesday as Planned Parenthood's new president, the first doctor to hold the post in five decades...Wen and her family fled from China just before her 8th birthday, were granted political asylum in the U.S. and became U.S. citizens in 2003.
In war on smog, China considers how to take polluting diesel trucks off the road | Reuters The transport and environment ministries are considering proposals that include replacing vehicles with more modern trucks using a higher grade of diesel called National Five, and using electric trucks or ones that run on liquefied natural gas (LNG), an industry source, who is involved in the discussions, said. He declined to be identified as he is not authorized to speak to the media.
Beijing
World's Largest Terminal: Spectacular Photos of Beijing's New Airport | What's on Weibo Beijing's new airport, that is expected to open in fall of 2019, is attracting some attention on Chinese social media lately as construction work on the major airport is speeding up.