Discover more from Sinocism
Get smarter about China
Over 179,000 subscribers
Xi's visit to Shaanxi; "6 stabilities" and "6 ensures"; Virus origin
Xi's Shaanxi inspection tour is a wrap, as signaled by the long opening report on the Thursday CCTV Evening News. Among the key themes from the trip:
ecological conservation;

poverty alleviation;

work resumption;

coordinating COVID-19 control with economic and social development as well as poverty alleviation
The CCTV report also emphasized the "six stabilities" and "six ensures". As Monday's newsletter noted:
For the first time the Politburo introduced the concept of the "six ensures 六保", in addition to stressing the "six stabilities" as they have over the last year or so. The six ensures give us a good idea of what worries them the most:

ensure employment 保居民就业;

ensure basic livelihood 保基本民生;

ensure market entities 保市场主体;

ensure food and energy security 保粮食能源安全;

ensure stability of the supply chain 保产业链供应链稳定;

ensure functioning of grassroots institutions 保基层运转 (确保基层政府保基本民生、保工资、保运转)
It surely is not a coincidence that Xi's first two inspection tours after visiting Wuhan in early March have been to Zhejiang and Shaanxi, places in which his political ties run especially deep?
I think it is too early to say Xi and the PRC are somehow "winners" from this terrible and continuing catastrophe. The mounting pressures on the PRC economy could cause massive political and stability headaches for Xi and the top leadership. We should assume almost all measures are on the table, from much more robust stimulus, though not like the 2008-09 kleptocratic gift of a stimulus, to deeper reforms as discussed in the April 15 newsletter.
Given the mounting stress I expect any reinvigorated economic reforms to be coupled with tighter social controls, as discussed in the April 9 newsletter, increasingly nationalist propaganda, harsher crackdowns wherever problems arise and perhaps some interesting political fallout.
As always, feel free to forward this newsletter occasionally to others.
Thanks, and I hope to see you in Friday's open thread.
---
The Essential Eight
1. Xi's visit to Shaanxi
Xi stresses reaching anti-poverty goals despite COVID-19 impact - Xinhua
During his inspection from Monday to Thursday, Xi learned about ecological conservation in the Qinling Mountains, poverty alleviation and work resumption, and conducted research on coordinating COVID-19 control with economic and social development as well as poverty alleviation...

On Wednesday, Xi inspected work resumption and economic recovery in the provincial city of Xi'an. While visiting an auto company, he stressed that manufacturing is the lifeblood of the national economy.

Large state-owned enterprises should lead enterprises in both upstream and downstream sectors as well as small and medium-sized enterprises to fully resume production and work with regular epidemic control measures in place, Xi noted.

In Xi'an, Xi also visited Xi'an Jiaotong University, touring a museum on campus and stressing the importance of patriotism. He also went to a commercial street in the city to learn about the reopening of business.
Top 21:25 of the Thursday CCTV Evening News is the official report on Xi's Shaanxi inspection tour-"During his visit to Shaanxi province, Xi Jinping stressed that the "six stabilities" work should be done well and the "six ensures" should be implemented; Strive to write a new chapter for Shaanxi to catch up and surpass in the New Era"-习近平在陕西考察时强调 扎实做好"六稳"工作落实"六保"任务 奋力谱写陕西新时代追赶超越新篇章_CCTV 
During the visit he told officials that they must "be political", that is to "pay attention to what the party central cares about, and deeply understand what are the most important interests to the party and the country." Xi urged them to be confident of China's political system and safeguard his authority in local levels (四个意识&四个自信&两个维护). "They must be put into practice. You can't just sing the slogans," he said.

要自觉讲政治,对国之大者要心中有数,关注党中央在关心什么、强调什么,深刻领会什么是党和国家最重要的利益、什么是最需要坚定维护的立场,切实把增强"四个意识"、坚定"四个自信"、做到"两个维护"落到行动上,不能只停留在口号上。

In the speech, Xi again said the coronavirus is a "major test" for the communist party, which has shown both strength and weakness in the test. And that the party must continue to uphold the "Yan'an spirit", from which the cadres should draw the "power of beliefs", and to clear corruption and formalism within the party.

习近平指出,延安精神培育了一代代中国共产党人,是我们党的宝贵精神财富。要坚持不懈用延安精神教育广大党员、干部,用以滋养初心、淬炼灵魂,从中汲取信仰的力量、查找党性的差距、校准前进的方向。要把政治建设摆在首位,严肃党内政治生活,严格落实中央八项规定及其实施细则精神,坚决破除形式主义、官僚主义,构建一体推进不敢腐、不能腐、不想腐体制机制,为各项事业发展提供坚强保障。
CCTV commentary on the importance of the "six stabilities" and "six ensures" - 央视快评:做好"六稳"工作 落实"六保"任务|央视_新浪财经_新浪网
"Stability" is the overall picture, and "protection" is the bottom line. In the face of the economic and trade frictions between China and the United States, the central government assessed the situation and put forward the "six stabilities", namely, stable employment, stable finance, stable foreign trade, stable foreign investment, stable investment and stable expectations. In response to the impact of the spread of the epidemic on the global economy, the central government has made strategic planning and put forward the "six ensures", namely, ensuring employment, basic livelihood, market players, food and energy security, industrial chain and supply chain stability, and grassroots operation. The goal of "six ensures" further details and highlights the problem, and allows for the precise targeted measures. The policy framework composed of the two sets of goals covers multiple dimensions, including "inside" and "outside", "macro" and "micro". It is a basic and key step for us to offset the impact of the epidemic with greater macro policy intensity and firmly implement the strategy of expanding domestic demand."

"稳"是大局,"保"为底线。面对中美经贸摩擦风波,中央审时度势,提出了"六稳",即稳就业、稳金融、稳外贸、稳外资、稳投资、稳预期,在实践中取得显著效果。针对疫情蔓延对全球经济冲击,中央运筹帷幄,提出了"六保",即保居民就业、保基本民生、保市场主体、保粮食能源安全、保产业链供应链稳定、保基层运转。"六保"目标进一步细化和突出了问题,精准靶向施策。两组目标共同构成的政策框架,涵盖"内"和"外"、"宏观"和"微观"等多个维度,是我们以更大的宏观政策力度对冲疫情影响、坚定实施扩大内需战略的基本遵循和关键抓手。
Xi visits museum, meets professors at Xi'an Jiaotong University - Xinhua
He praised the professors for making personal sacrifices for the interest of the country by moving along with the university from Shanghai to Xi'an.

Xi noted the great significance of the university's relocation to the whole country, nation and the development of China's western region.

He encouraged teachers and students of the university to remain true to their original aspiration, continue to draw inspirations from the relocation, pursue their careers in the most-needed places of the country, and pass on the "westward relocation spirit" from generation to generation
Xi Jinping sends corruption warning on trip to China's northwest | South China Morning Post
"From now on, any officials who come to serve in Shaanxi must learn from this lesson [of luxury villas in Qinling Mountains] and don't make the same mistakes again. Instead, they should be at the forefront of protecting this environment," Xi was quoted by state media as saying on Monday...

Zhu Lijia, a professor with the state-run Chinese Academy of Governance, said Xi's "lesson" was not just about protecting the environment but also about political loyalty.

"The Qinling Mountains are a typical case of natural ecology as well as political ecology," Zhu said. "The officials ignored six written directives by Xi."
Xinhua explains one of the key themes of Xi's three recent inspection tours - 三次地方考察,习近平推动复工复产提速扩面
Xi Jinping inspected 3 provinces since the outbreak, setting up goals to boost work resumption. Xi pointed out that the priority is to resume production and recover the economy under a strict prevention and control measures.
---
2. The outbreak
Chinese mainland reports 10 new COVID-19 cases, 27 asymptomatic - CGTN
On Wednesday, the Chinese mainland announced 10 more COVID-19 cases, six imported and four domestic, according to the National Health Commission.

The commission also reported 27 new asymptomatic patients and no new deaths.
最新疫情:全国新冠累计确诊82798例, 黑龙江和广东本土病例继续增加
A tally by Caixin said most of the imported cases in China right now are from Russia (636/1607), then UK (310), then US (166).
Schools in Hubei to partially reopen on May 6 - Xinhua
Central China's Hubei Province, which was hit hard by COVID-19, announced that students in the final year of senior high schools in the province will restart classes on May 6.
Beijing Youth Daily said the "central guiding group" on the coronavirus, which led the fight in Wuhan, has sent a special team to "southwestern provinces" including Yunnan as it sees high risks of importing new cases from the porous borders with Myanmar, Vietnam and others.
Shanghai Offers City-Wide Virus Testing as China Seeks to Reopen - Bloomberg
Anyone in Shanghai who wants to be tested for the coronavirus can now get one easily, in China's latest step to allay fears so that economic activity can resume.

Companies and individuals in Shanghai can book the nucleic acid tests at their own expense in designated hospitals and clinics, according to the city government's statement on Weibo. The tests will be conducted on a voluntary basis, aimed at helping companies and schools resume operations.
Beijing to gradually reopen sports facilities while avoiding risks of a coronavirus resurgence - Global Times
While overseas coronavirus cases continue to climb and China accelerates work resumption, Beijing recently had two family outbreaks triggered by imported cases while other provinces and cities saw outbreaks within families and medical institutions, which all sounded a warning for prevention and control measures in the capital city, Chen Bei, the vice secretary of the Beijing municipal government, said at Tuesday's press briefing.
Coronavirus: China is getting back on its feet, but who forgot to tell Beijing? | South China Morning Post
Many public venues, including museums, libraries and theatres, remain closed, and although most supermarkets and shopping malls have reopened, entry to them is via body temperature checkpoints. Similarly, restaurants and coffee shops have had to rearrange their tables and chairs to ensure they do not accommodate too many customers at once...

Wang Zhen, who owns a printing shop in Beijing, is one of the few business owners to have benefited from the social distancing measures, though possibly more than she would have wanted....

"I'm too busy. This morning, I had all the work to do for the new community entry passes and ID cards," she said.
Coronavirus: China may have had four times as many cases as official figure, study says - Inkstone
In a study published in the Lancet medical journal on Tuesday, the researchers said China might have had 232,000 confirmed cases by February 20 if a revised definition adopted earlier in the month had been applied from the start of the outbreak. That is more than four times higher than the official tally then of about 55,000. To date, China has reported a total of about 83,000 infections.

"The true number of infections could still be higher than that currently estimated considering the possibility of under-detection of some infections, particularly those that were mild and asymptomatic, even under the broadest case definitions."
'Wuhan diary' writer escalates online spat, wears out dwindling fans - Global Times
Her latest "battle" with Global Times editor-in-chief Hu Xijin made her become one of the most trending topics on Sina Weibo, one of China's most popular social media platforms, which attracted over 800 million views.

Hu previously commented that "the diary will not be a normal exchange of documentary literature. It will be captured by international politics. It is quite possible that in the coming storm, the Chinese people, including those who have supported Fang Fang, will pay for her fame in the West," to which Fang Fang believed Hu was playing a trick on her, aiming to beat down a writer just because she allegedly "told the truth."
Data on Gilead's remdesivir show no benefit for coronavirus patients - Stat
The antiviral medicine remdesivir from Gilead Sciences failed to speed the improvement of patients with Covid-19 or prevent them from dying, according to results from a long-awaited clinical trial conducted in China. Gilead, however, said the data suggest a "potential benefit."
COVID-19 vaccine protects monkeys from new coronavirus, Chinese biotech reports | Science | AAAS
Researchers from Sinovac Biotech, a privately held Beijing-based company, gave two different doses of their COVID-19 vaccine to a total of eight rhesus macaque monkeys. Three weeks later, the group introduced SARS-CoV-2, the virus that causes COVID-19, into the monkeys' lungs through tubes down their tracheas, and none developed a full-blown infection.
【独家】新冠疫情捐款超汶川地震 中国红十字会系统接受捐赠已近210亿
The Economic Observer reported that, despite hit hard by scandals of corruption and mismanagement, China's Red Cross has received more than 21 billion RMB in donations, a record higher than the 19.9 billion rmb during the Wenchuan earthquake. The Red Cross has promised to make everything public and said the state auditors will be involved to make sure the money and materials are properly managed.
Report: China's fight against COVID-19 (full text) - China Daily
This report, the result of an extensive collection of experts' and scholars' opinions as well as a meticulous compilation of authoritative documents, is a public research project by the joint efforts of media groups and scientific research institutions for the express purpose of objective reflection of China's practices and measures to combat the COVID-19 outbreak...

It is best viewed as an early attempt to summarize China's practices in combating the COVID-19 pandemic, a trailblazer in the hope of clearing the path for better ones later, to continue — in the spirit of respecting science, universal rules and common practices — the chronicling of our experience as human beings in overcoming this major infectious disease.
Trains between northeastern cities like Changchun, Shenyang and Dalian are all canceled from April 21 to May 21. 
Comment: Not clear why, some say to control the spread of the virus but nothing confirmed.
---
3. The economy
In Depth: Pressure Grows on China to Step Up Help for Economy - Caixin
Feng Xuming, a researcher specializing in monetary and fiscal policy at the Chinese Academy of Social Sciences, said he expects the government to start rolling out measures during the current quarter and estimates they could be in place for up to two years depending on how the economy responds. The package is likely to include a mix of stimulus and relief measures amounting to around 7.5% of GDP, he said.

"Relief measures could include direct cash transfers to struggling households and measures to help small businesses and the job market," Feng told Caixin. "Stimulus measures will focus on sectors including infrastructure investment, education and shantytown renovation."..

Calls for more direct fiscal support are growing as the scale of the impact on low-income families becomes more evident. ..

The China Finance 40 Forum, a finance and macroeconomic think-tank that counts many prominent economists as members, added its voice to the debate on Sunday, urging the government to offer temporary subsidies to households where the main breadwinners haven't been able to get back to work.
In an interview with ThePaper, Professor Yao Yang of Peking University urged the government to give Chinese citizens with low income 2000 rmb in cash to boost consumption as economy slows and a recession looms.
Comment: The idea of direct cash payments is getting a lot of discussion
5th People's Daily front page commentary on the Politburo meeting last week that vowed to do more reforms to boost consumption and shore up the economy. Other than encouraging domestic innovation, the article said "China's opened door will not close up … We must firmly implement the policy of opening up the economy, lowering the entry bar, continue to improve the business environment, and actively expand import and FDI
On the messages of the 5 People's Daily commentaries since the Politburo meeting: the first quarter of this year was extremely unusual; the sudden outbreak had an unprecedented impact on China 's economic and social development; under the strong leadership of the Party Central Committee with Comrade Xi Jinping at the core, the whole country has become more tenacious, and the epidemic prevention and control have achieved periodic success; the economic and social operation order has been restored quickly.
Caixin takes a closer look at the provincial GDP numbers and said outside Hubei, Tianjin's economy is also hit hard by the virus as it depends on heavy industries like petrochemical and auto manufacturing The article said that in order to offset the shock local governments in Jiangxi, Hianan and Guizhou have kicked off a new infrastructure building campaign while places like Qinghai, Tibet and others continue to bet on real-estate investment.
时代周报:余永定:控制疫情争取实现3%以上的经济增长;​不要匆忙否定GDP统计数据的可信性
CASS economist Yu Yongding said China should "strive to achieve" in a 3% growth this year. He said there is no much the government can do about external demand so it should focus on investment on infrastructure projects, which can increase consumption. 
At a symposium with the All-China Federation of Industry and Commerce, Zhou Qiang, Chief Justice and President of the Supreme People's Court of China, emphasized that the legal authorities will equally protect the rights of the private economy as it works to resume production
Wuhan's Lockdown Is Over. Its Economic Pain Is Just Beginning. - SixthTone
According to Luo Zhi, director of Wuhan University's New Private Enterprise Economy Research Center, the city's small- and medium-sized enterprises (SMEs) are under particularly severe pressure.

"We're two months behind the neighboring provinces, which resumed work in February," says Luo. "A major problem now is that many Wuhan companies lost their orders to companies in other regions."
Oil Collapse to Worsen China's Deflation, Open Path for PBOC - Bloomberg
The most recent energy slump is another hit to companies already grappling with higher costs, broken supply chains, canceled orders and unwilling consumers. China's factory-gate prices, which are a key inflation metric for the world economy, fell 1.5% in March, and could drop as much as 5% this quarter according to Shanghai brokerage Huabao Trust Co.
China's cash-strapped poor seek more debt as coronavirus hits jobs - CNBC
A survey of Chinese households in the first quarter found that the poorest — those making 50,000 yuan ($7,142) or less a year — reported the highest level of consumer loan demand. The corresponding index jumped to 110.5, up from 100 in the fourth quarter, according to the latest report from the Survey and Research Center for China Household Finance at the Southwestern University of Finance and Economics.

The study was conducted from Feb. 21 to March 10, toward the tail end of the virus' spread in China, and covered 30,688 respondents through Alipay, the mobile payments app run by Alibaba-affiliate Ant Financial.
China struggles with sharp rise in unemployment | Financial Times $$
Beijing doesn't lack resources. China's state-sponsored unemployment insurance premium grew to almost Rmb600bn ($85bn) at the end of last year from Rmb98bn in 2007. That leaves plenty of room for jobless claims worth less than Rmb2,000 a month.

But most insurance holders work for large employers, led by state-owned companies, which tend to keep their workforce regardless of the state of the broader economy. By contrast, most small and medium-sized enterprises, the nation's main employers, do not provide unemployment insurance and are more likely to cut headcount.

"There is a mismatch between holders of unemployment insurance and those who really need it," said Li Zhen, a professor at Renmin University in Beijing who specialises in social security. "That makes it difficult to hand out jobless benefits."
New CSIS Trustee Chair Scott Kennedy Commentary: China Won't Be Scared Into Choosing Marketization
in the past few weeks, Chinese officials have once again started to tout the language of market reform. On April 9, the Communist Party and State Council issued a proposal calling for the marketization of factor prices, including for land, labor, technology, and capital. It even called for making economic data better integrated nationally and more widely available. On April 17, on the same day as Q1 data release, the Politburo met and stressed the importance of protecting firms, especially (private SMEs) and workers, and marketizing the allocation of resources.

Despite such language, no one should expect a great leap in market reform any time soon. All of these calls for marketization are accompanied by direct or indirect references to using the power of the Chinese Communist Party and the state to carry out policies and achieve economic targets. Such a balance existed in the 2013 document from the 3rd plenum of the 18th Party Congress, but most of us focused on the marketization angle. As economist Arthur Kroeber pointed out in a 2016 CSIS report, the 3rd plenum mad
---
4. Virus origin
The case for an international probe of Covid-19's origins | Financial Times Editorial
Opening up to investigators will go against all the instincts of a political system that is built on secrecy and control of information. But the Chinese government's global reputation, its trade and investment links, and even its legitimacy in the eyes of its own people are now at stake. Allowing a multilateral expert mission to visit China and Wuhan to investigate the origins and early spread of the virus would do much to silence international criticism.

It would also help dispel pernicious conspiracy theories peddled by officials in China and elsewhere — from the claim that the US brought coronavirus to Wuhan last October, to the suggestion that it is a Chinese bioweapon. The possibility that the virus escaped accidentally from one of two research laboratories that were studying animal coronaviruses is more plausible but needs to be investigated.
"Sourcing the virus must depend on science" - 人民日报:病毒溯源要以科学为依据
A relatively restrained People's Daily front page commentary on Thursday again saying the claim that the virus may have been manufactured and/or leaked from a Wuhan lab can't be backed up by science. Without naming the US, the article said, "Those who spread the conspiracy theory and their ugly shows that gives no regard to facts and science, are essentially anti-science."
Op-ed: Virus tracing must be science-based - People's Daily Online
The fallacies and conspiracy theories accompanying the spread of the pandemic are not only unhelpful for countries to fight the pandemic, but also breed mistrust, and eventually disrupt the joint anti-virus efforts and disturb global solidarity and cooperation.

Spreading conspiracy theories, stigmatizing other countries under the excuse of the virus, and staging ugly performances that disregard facts and run afoul of science are in essence anti-science and politicizing public health issues. These conducts must be resolutely resisted and corrected from the source.
Meanwhile the Global Times has not compunction spreading the idea that US made the virus - Scientists 'unable to judge' if US lab is virus source due to lack of govt response - Global Times
Responding to viral reports alleging that the novel coronavirus was leaked from a US military biochemical laboratory, Chinese scientists said that they could not make a judgment on the allegation, as the US had not given any public response on the issue.

Shi Yi, a research fellow from the Institute of Microbiology, Chinese Academy of Sciences, made the remarks at a press conference Thursday, noting that the origin of the virus is a scientific issue requiring a long period of research and involves a great deal of uncertainty.

The remarks came amid circulating reports alleging that the Fort Detrick laboratory, which handles high-level disease-causing materials such as Ebola, in Fredrick, Maryland, may be the origin of the deadly novel coronavirus, which has infected more than 2.6 million Americans with nearly 20,000 deaths as of 4:30 pm Thursday.
Earliest COVID-19 deaths in US fuel doubts over virus birthplaces - Global Times
Experts said the fact that two US residents with no "significant travel history" died of COVID-19 weeks before the initially known first US death from the virus supports the theory that the virus may have multiple birthplaces around the world.

US media outlet CNN reported Wednesday that "new autopsy results show two Californians died of novel coronavirus in early and mid-February - up to three weeks before the previously known first US death from the virus." The two had no "significant travel history" that would have exposed them to the virus, the report said.

Yang Zhanqiu, deputy director of the pathogen biology department at Wuhan University, told the Global Times on Thursday that with the two now standing as the country's first documented fatalities attributed to the virus, it would not be surprising if some cases in late 2019 diagnosed as influenza in the country were connected with the coronavirus.
Secretary Michael R. Pompeo With Laura Ingraham of Fox News - United States Department of State
QUESTION: Right. Yeah, make our own organization. All right, Mr. Secretary, Senator Tom Cotton wrote a phenomenal piece in The Wall Street Journal yesterday saying that the U.S. Government is investigating whether COVID-19 came from a government lab in Wuhan: "Evidence is circumstantial, to be sure, but it all points toward the Wuhan labs."

Well, China absolutely disavows any culpability from that lab, as does the chief scientist, world-renowned scientist who runs that lab. She said the same thing in interviews over the last week. Do you agree, though, that this is what the state of our information now is that this lab was the source of the virus that has done huge damage and loss of life in the United States?

SECRETARY POMPEO: Well, Laura, we don't know precisely where it started. That's the core problem. China kicked out journalists. When the United States, under President Trump, tried to get in to conduct the very investigation that needs to still be undertaken – it still hasn't been done – when we tried to do that, the Chinese denied access not only to the lab but to the wet markets, to all of the places that one would need to go to identify the original source for this virus. We're still trying to get that information. We're still seeking transparency.
China praises France for 'independent diplomatic style' amid coronavirus backlash | South China Morning Post
Speaking with his French counterpart by phone on Wednesday – their second call in a month – Foreign Minister Wang Yi said China "appreciates France's independent diplomatic style, especially its adherence to the diplomatic concept of multilateralism"...

The phone call came after French President Emmanuel Macron questioned how the virus outbreak had been handled by China – where the first cases were detected late last year – but reportedly declined to join Australia in launching an international inquiry, which has US backing.
Foreign Ministry Spokesperson Geng Shuang's Regular Press Conference on April 23, 2020
CCTV: Kremlin spokesman Dmitry Peskov told reporters on April 22 that China and Russia have been coordinating closely on fighting the COVID-19, and the two heads of state have confirmed their political will to strengthen such cooperation via phone calls. He also said that claims about the artificial origin of the virus are groundless, and allegations against any country without adequate scientific proof are unacceptable. What is your comment?

Geng Shuang: We have noted these remarks by the Russian side.

China and Russia are each other's biggest neighbor and comprehensive strategic partner of coordination in the new era. In the spirit of high-level mutual trust and mutual assistance, the two countries have been firmly supporting each other in the fight against the epidemic. President Xi and President Putin spoke on the phone twice in a month, which has injected strong impetus into anti-epidemic cooperation. In accordance with the consensus reached by the two heads of state, the two sides will enhance mutual support, maintain close cooperation and jointly respond to the pandemic.

We appreciate Russia's position on the origin of the virus, which is objective, fair, science-based and rational. As a scientific matter, the origin of the virus should be researched by scientists and medical experts. This is also the general consensus of the international community. Any attempt to politicize the source of the virus and dump the blame on other countries is unacceptable. The international community should, based on the vision of a community with a shared future for mankind, work together in solidarity and good faith to safeguard world public health security.
---
5. Foreign work
China to donate another 30 mln USD supporting WHO's fight against COVID-19 - Xinhua
Spokesperson Geng Shuang told a news briefing that the WHO, led by Director-General Tedros Adhanom Ghebreyesus, had actively fulfilled its duties with objective, science-based and fair position and played an important role in assisting countries in responding to the outbreak and boosting international cooperation on COVID-19.

Geng said to support the WHO is to defend the principles of multilateralism and safeguard the status and authority of the United Nations at a crucial time of the battle against the pandemic, adding that the virus is the common enemy of humankind, and the international community can only defeat it through unity and cooperation.
Kremlin sees no evidence that China hid COVID-19 data - Xinhua
The Kremlin has not seen any proof that China hid COVID-19 data, Kremlin spokesman Dmitry Peskov told reporters Thursday.

He made the remarks when asked to comment on a lawsuit against the Chinese government filed on Tuesday by Attorney General of the U.S. State of Missouri Eric Schmitt, which accused China of covering up the danger of the coronavirus and not doing enough to slow its spread.

Peskov noted that the virus is a common challenge for all humanity, the global economy and each country.
People's Daily Editorial on the leadership of China and Russia fighting against COVID 19 - the virus is doomed to be defeated and the victory belongs to us. 

China and Russia should not only team up to fight against the unprecedented virus outbreak, we should jointly fight against "political virus" as well. Russia was the first country to offer help to China after the outbreak. While China was making sacrifice fighting against COVID19, a certain country thrived on schadenfreude and then tried to blame their own mismanagement on China.
Pandemic has brought Britain and China closer, Beijing ambassador Liu Xiaoming claims | News | The Times
"I've been here as ambassador for more than ten years and I've never seen our top leaders have such intensive communications in such a short time," Mr Liu said. "I am confident that China and the UK will emerge from this test with a more mature and robust relationship."

Technology such as the video-conferencing platform Zoom, on which businesses and individuals are increasingly relying, would improve considerably once Huawei's 5G installation in Britain was complete, he said.

"Once you have Huawai participating in this online technology the speed and quality of these meetings will be even better," he said. "I know Prime Minister Johnson has a very ambitious plan to have full coverage of the UK by 2025 in 5G. Huawei will be a big help in this."
There was no China cover-up of coronavirus, Chinese envoy says - Reuters
"I hear quite a lot of this speculation, this disinformation about China covering up, about China hiding something - this is not true," Liu Xiaoming said. "The Chinese government was transparent and very quick to share data."

"Some other country - their local courts sued China - it is absurd," he said. "Some politicians, some people, want to play at being the world's policeman - this is not the era of gunboat diplomacy, this is not the era when China was a semi-colonial, semi-feudal society."
China and COVID-19 in Saudi Media - War on the Rocks
Commentary in Saudi Arabia exposes the folly of official American messaging on COVID-19, which focuses on pinning the blame for the pandemic on China. American criticism of Beijing rings hollow given the obvious failure of the U.S. government to marshal an effective pandemic response within its own borders. For one, China's initial messaging was rendered credible by its past track-record of state-led development. "Perhaps the successes declared by China are exaggerated or government propaganda," Abdelrahman al-Rashed conceded on March 30, "but the numbers of its achievements in a decade and a half do not lie." At the same time, China's own failings have attracted increasing attention in all but Saudi Arabia's most avowedly pro-China outlets. Articles in Okaz have increasingly highlighted China's manipulation of COVID-19 statistics; Abeer al-Fawzan accused China of "attacking the whole world" and Tariq al-Hamid referenced "doubts about [China's] credibility" in respective op-eds.
Larijani Thanks Beijing for Backing Tehran in Hard Times | Financial Tribune
Parliament Speaker Ali Larijani hailed China's success in containing the novel coronavirus and applauded the Asian country for assisting Iran in the fight against the infectious disease.

In a letter to his Chinese counterpart, Li Zhanshu, Larijani congratulated China on its success in controlling COVID-19 and developing an "effective global pattern" to contain the disease, Tasnim News Agency reported.

He also thanked China for providing Tehran with medical and humanitarian aid to help curb the spread of the virus in Iran.
---
6. US-China
Amid coronavirus, China looks to U.S. crops for state reserves - sources - Reuters
China is preparing to buy more than 30 million tonnes of crops for state stockpiles to help protect itself from supply chain disruptions caused by the coronavirus pandemic and make good on pledges to buy more U.S. crops, three sources told Reuters.

China plans to add about 10 million tonnes of soybeans, 20 million tonnes of corn and 1 million tonnes of cotton to its state reserves, said two of the sources, who were briefed on the government plan.
China Looks at How it Could Expedite U.S. Farm Goods Purchases - Bloomberg
The proposals being considered include potentially buying 10 million tons of American soybeans for Chinese state reserves if demand from private buyers isn't enough, said the people, who asked not to be identified as the discussions are private. A final decision has yet to be made on what actions may be taken, according to the people.
Comment: Are the negotiators meeting virtually next week?
US blasts China at Southeast Asian meeting on coronavirus - AP
Pompeo made the accusation in a meeting via video to discuss the outbreak with the foreign ministers of the 10-member Association of Southeast Asian Nations...

"Beijing has moved to take advantage of the distraction, from China's new unilateral announcement of administrative districts over disputed islands and maritime areas in the South China Sea, its sinking of a Vietnamese fishing vessel earlier this month, and its 'research stations' on Fiery Cross Reef and Subi Reef," Pompeo said.
Missouri's Lawsuit Doesn't Abrogate China's Sovereign Immunity - Just Security
The Missouri AG attempts to avoid the Foreign Sovereign Immunities Act (FSIA) by arguing that the Communist Party of China (CCP) is not covered by the FSIA, and that the CCP "exercised direction and control" over all the other named defendants. Courts generally do not view attempts to "plead around" the FSIA favorably. The complaint cites an unpublished opinion by a federal district court in Michigan finding that the CCP does not fall under the FSIA, but that determination was inconsequential, because the plaintiff's claims had other fatal defects. However, in a different unpublished opinion, a federal district court in New York found in a decision, upheld on appeal, that China Central Television is an instrumentality of China because it is the "mouthpiece of the Chinese Communist Party." Similarly, a federal district court in Florida found that the Communist Party of Cuba is an agency or instrumentality of Cuba, a designated state sponsor of terrorism under the FSIA.
Hooliganism infects US judiciary: Global Times editorial - Global Times
As attempting to hold China accountable is absurd and the Chinese government is protected by sovereign immunity, such a lawsuit will never succeed. Even if some US or Western courts support the claim for compensation from China, they cannot force China to pay compensation as long as China refuses...

The US and other Western countries built a system that favors the Western camp in a hegemonic and bullying manner. These countries can't accept that China has grown stronger, so they are pursuing a new round of bullying in order to block China's development that is progressing faster than theirs. ..

The most important thing China needs to do is enhance its countermeasures against US hooliganism, step up national strength building and ensure its bottom line cannot be crossed. If Washington goes beyond verbal attacks and takes concrete actions to provoke China, China must firmly strike back, to prove that it cannot be bullied.
The original GT editorial - 社评:向中国"索赔",美国司法也在"流氓化"
所以中国最重要的是强化自己对付美国"流氓化"的手段,加快实力建设,保持底线思维。华盛顿散布些反华舆论也就罢了,事实将打他们的脸。他们要是在任何方向上动真的,我们必须有能力采取坚决的反制行动,证明中国不是好惹的。
Nikki Haley launches petition urging Congress to investigate China over coronavirus crisis | Fox News
"We have long warned about the threats China's Communist government poses. Now, in a time of crisis, we are seeing just how dangerous China is. The time for warnings is over. We must act and protect American security, health, and prosperity," Haley said in a statement.
U.S. extends economic aid to Greenland to counter China, Russia in Arctic - Reuters
The United States announced a $12.1 million economic aid package for Greenland on Thursday aimed at strengthening mutual ties and boost a renewed U.S. push for a greater military presence in the Arctic.
Briefing With Senior State Department Official On the Administration's Arctic Strategy - United States Department of State
China is a bit of a different challenge.  It claims that its interests in the Arctic are focused on access to natural resources and the opportunities offered by Arctic sea routes for shipping.  And as you all probably know, it outlined plans in 2018 to develop a Polar Silk Road, claimed it was a near-Arctic state, and signaled its intention to play a more active role in Arctic governance.  We have found this disconcerting because the PRC's behavior outside the Arctic, it often disregards international norms, as it has in the South China Sea, for example.  And if I can quote Secretary Pompeo, he said this last year in May of 2019 in Finland: "There are only Arctic states and non-Arctic states."  There are – "No third category exists," so we do not accept Beijing's claims to be a near-Artic state...

But look, it is no secret the way China operates, right? And they have tried in the past to – what's the word I'm looking for – wiggle their way into Greenland in unhelpful ways by acquiring critical infrastructure that would be problematic for the United States and our NATO allies and, of course, the Kingdom of Denmark.
People's Daily Wang Hai Lou Editorial- 美国政客们,多干点实事吧!
American politicians, take more actual measures!

Western politicians are not focusing on fighting with the virus. Instead they are racking their brains making up conspiracy theories to discredit China. 
A Biden Presidency Wouldn't Mean Better U.S.-China Relations - Bloomberg
A person familiar with Biden's thinking says that if Biden defeats Trump, he'll take a firm line on China's economic and foreign policy ambitions and also seek collaboration on global issues such as climate change. His goal, the person says, is to keep China from bullying other countries while avoiding an aggressive "containment" strategy of the kind the U.S. employed against the Soviet Union.
Mitt Romney: America is awakening to China. This is a clarion call to seize the moment. - The Washington Post
America is awakening to China. The covid-19 pandemic has revealed that, to a great degree, our very health is in Chinese hands; from medicines to masks, we are at Beijing's mercy. Embarrassed by the revelation of this vulnerability, politicians in Washington will certainly act to remedy our medical dependence — with the usual fanfare and self-congratulation. But China's stranglehold on pharmaceuticals is only a small sliver of its grand strategy for economic, military and geopolitical domination. The West's response must extend much further — it will require a unified strategy among free nations to counter China's trade predation and its corruption of our mutual security...

China has done what we have allowed it to do; to save a few dollars, we have looked the other way. Covid-19 has exposed China's dishonesty for all to see. And it is a clarion call for America to seize the moment. When the immediate health crisis has passed, the United States should convene like-minded nations to develop a common strategy aimed at dissuading China from pursuing its predatory path.
Wu Xinbo of Fudan University wrote for the Pangoal Institute that how far Trump's anti-China policy will go depends on how high a toll on economy he is willing to take, how China will retaliate, and whether the US allies will support this. "The fundamental problem on the US side is that its China policy goals are not reasonable and it does not have enough resources and means to pursue those goals." Wu suggests that there will be increasing conflicts between the two countries to test their strengthen and boundaries, and China should continue to grow in its power and ask for "reasonable interests exchange", so to shape this into a "healthy competition".
---
7. Medical equipment free-for-all
China's Medical-Goods Market Is 'Wild West' Amid Surging Coronavirus Demand - WSJ $$
Inundated with prospective buyers, Chinese factories are taking advantage of their plum position, dictating buying conditions and demanding advance payments in full, while buyers must quickly vet newly-minted vendors—sometimes by video from the other side of the world...

"In this environment, the key is doing all you can to get your goods," said Jeffrey Bernstein, who heads the China operations of the University of Pittsburgh Medical Center. "It's very much a wild, Wild West scenario."

Left with few alternatives, buyers now pay for almost everything upfront, with Chinese manufacturers demanding as much as 50% upon signing the contract and the other 50% before the goods are handed over, according to buyers and sellers.
UW Medicine halts use of coronavirus testing kits airlifted from China after some had contamination | The Seattle Times
A Seattle importer used a business associate in China, who had a connection to a doctor in the province hardest hit by the disease, to secure testing kits from a Shanghai factory and then have them flown stateside as soon as possible on an Amazon-chartered jet. UW Medicine allocated $125,000 to purchase the kits.

The story of the testing swabs, which The Seattle Times detailed earlier this month, illustrated what authorities are willing to risk to secure more supplies for COVID-19 testing, which experts say will need to ramp up before distancing restrictions in Washington can be safely removed.
Everyone Is Trying to Sell Medical Equipment—Even on LinkedIn | WIRED
In this new chaotic world, brokers who have been in the market since January are considered veterans. Some have connections to China. Others come from the worlds of cryptocurrency, fintech, and medical marijuana—other markets rife with risk. "Everybody and his dog now is trying to sell medical equipment, and that's dangerous," said Clive Greenwood, a consultant in Suzhou, China, who performs quality control in medical supply factories and who has publicly criticized people whom he believes are speculators on LinkedIn.
New and Improved China PPE Scams | China Law Blog
with so many people literally desperate to spend money on PPE and fast, we are seeing increasingly sophisticated and difficult to spot scams.
Not just scamming foreign buyers - 浙江21人哄抬熔喷布价格被抓
Multiple cases of illegal masks production were reported. 21 people were arrested  in Zhejiang for jacking up prices of non-woven fabric, the material to make masks. Prior to this case, there were 19 other cases, involving more than 34 million rmb. 
---
8. Details of scam at Export-Import Bank of China
In Depth: How 4 Conspirators Pulled Off a $240 Million Loan Scam - Caixin
On a January day in 2017, Xu Jianping met with two clients from an investment management company and a movie-making investor in the lobby of the Beijing Branch of the Export-Import Bank of China. The four of them then entered the office of branch President Li Changjun, who was waiting.

In Li's office, representatives from Nest Investment Management Co. Ltd., a Guangzhou-based money manager serving high-net-worth clients, signed a stack of paperwork to obtain a loan guarantee agreement...

Not only did the project no longer exist, but the whole transaction was a scam. Except that Li's position as president of the bank was real, everything else — the paperwork and the official seal ― were all fake. Even Li's assistant who helped to prepare the paperwork was actually a con man hired to put on a show. They money actually went into the pockets of four conspirators including Li and Xu...

The Nest deal was the final in a series of such scams. Less than a month later, Li turned himself in to authorities for reasons that have never been disclosed. Over four years, through fake loan guarantees, he helped Li Hongrong, the Shenzhen movie investor, to obtain 1.7 billion yuan ($240 million) of loans from banks and securities and investment companies, of which more than 1.4 billion yuan couldn't be recovered when the banker turned himself in.
Comment: This scam was going on when times were not great but were relatively fat compared to today.
---
Business, Economy and Trade
Peking University Professor Says Launch of China's Central Bank Digital Currency Will Be History-Defining Event – China Banking News In an in­ter­view with Se­cu­ri­ties Times, Xu Yuan (徐远), a se­nior re­searcher with Peking Uni­ver­si­ty's Dig­i­tal Fi­nance Re­search Cen­tre, said that the launch of Chi­na's CBDC would be one of the two defin­ing his­toric events of 2020 along­side the COVID-19 pan­demic. Ac­cord­ing to Xu the launch of a CBDC could see hu­man mon­e­tary sys­tems tran­si­tion from a foun­da­tion in "state credit" to "state credit + tech­no­log­i­cal credit." "Cen­tral bank dig­i­tal cur­rency is­n't at all mys­te­ri­ous – es­sen­tially it's digi­tised cash," said Xu. "It's the tran­si­tion from a tra­di­tional pa­per medium to elec­tronic money." // 央行数字货币:法币光环加持下的货币体系新纪元
Starbucks, McDonald's Among 19 Firms to Test China's Digital Yuan: Report - CoinDesk Starbucks and McDonald's are reportedly among 19 restaurants and retail shops that will be involved in testing China's central bank digital currency in the country's Xiong'An new district.
Luckin is being sued by Chinese investors under brand new law - Technode The US-listed Chinese company may fall under Chinese courts' jurisdiction for fraud, thanks to a recent revision to China's Securities Law. The new law, which came into effect March 1, added a clause that expanded its authority to cover overseas-listed Chinese companies that have domestic investors.
财新:上海新增4万个汽车牌照指标,"以旧换新"还有补贴 Following other major cities, Shanghai relaxed the quota restriction on new cars to boost consumption. The government said it will add 40,000 more plate quota for passenger cars by the end of 2020.
Trump officials eye blocking uranium from Russia, China to help U.S. nuclear industry - Reuters The recommendations are meant to address growing concern in Washington that the United States has ceded its global leadership in nuclear technology in recent decades, and to boost domestic nuclear power producers and uranium miners suffering from a lack of investment.
Yicai - Alibaba to Offer Savings of USD280 Million Over Shanghai Shopping Fest Alibaba Group Holding will offer buyers CNY2 billion (USD280 million) worth of price cuts and other incentives in its online and offline consumption scenarios during Shanghai's new shopping festival, the Hangzhou-based tech and e-commerce titan said today.
Yicai - Shanghai Hopes to Lift Post-Lockdown Consumer Spending With Big Shopping Gala Shanghai, which spentUSD190.7 billion on consumer goods last year, aims to encourage shoppers to splurge again after the coronavirus lockdown by staging a massive retail extravaganza from this month until June.
Yicai - Downtown Shanghai Plot Sells at USD847 Million Base Price in Second High This Year Bidding located at Jingan district with a unit price CNY50,000 (USD7,000) per square meter. Because the auction requires that the bidder hold 80 percent of the area for rentals and thus requires large sums, the only eligible company was Lanhai Holding Group, so it went at the base price to this sole bidder, the city government said earlier, The Paper reported yesterday.
In Open Letter, Faraday Future Begs Creditors to Rally Behind Bankrupt Founder - Caixin Faraday Future, the electric vehicle startup founded in the U.S. by embattled Chinese entrepreneur Jia Yueting, has published an open letter to Jia's creditors begging them to unanimously approve Jia's bankruptcy plan which he claims can help pay back his heavy debts. "Only when Faraday Future achieves success can Yueting perform or even overfulfill his responsibility of paying back his debts," the letter wrote, while inviting Jia's creditors to be future shareholders of the company. // Desperation, good luck to anyone who agrees
Gemdale Sparks Investors' Ire Over Plan to Slash Bond Coupon - Caixin The company announced its intention in a filing (link in Chinese) on Monday night, saying that the coupon rate on the three-year bond, 18 Gemdale 03, would be lowered to 1.5% from 5.29% effective May 28, the second anniversary of the issuance, citing the "current market environment." Less than 24 hours later, after an outcry from investors who accused the company of violating the terms of the bond sale, the Shenzhen-based developer put out another statement saying it was looking into the matter and requesting that trading in the bonds be suspended..Gemdale has already decided not to change the interest rate after regulators stepped in, people familiar with the matter told Caixin.
Byton still hasn't paid employees their March salary · TechNode Multiple employees from Byton's China headquarter in the eastern city of Nanjing said they have not received March salaries and still don't know when they will get paid, Chinese media reported on Wednesday citing people familiar with the matter.
EV startup Byton furloughs half of its 450-person staff in the US | TechCrunch "Given the impact of the pandemic on the global economy and the auto industries we, like several companies, have had to take action to face the challenge," a Byton spokesperson wrote in an email to TechCrunch. "The furloughs have affected all areas within Byton's U.S. operations. Employees in China have not been furloughed."
Chinese investors flummoxed by India's new foreign investment rules - Reuters The new rules are to curb "opportunistic" takeovers during the coronavirus outbreak that has hit Indian businesses, but government sources have said they will also apply to greenfield investments. China has called the rules "discriminatory". Some Chinese investors have already "put things on hold" as they await further clarity on the rules, said Vaibhav Kakkar of Indian law firm L&L Partners.
China's Megvii looks to a more favourable reception and deep pockets in its home market as an option to bankroll its growth | South China Morning Post The Beijing-based owner of facial recognition software Face++ is mulling an initial public offering on the Nasdaq-like Star Market in Shanghai, in response to the local government's overture to groom China's home-grown technology champions, the people said
Earnings hit stings China's iFlytek in wake of US blacklisting - Nikkei Asian Review Chinese artificial intelligence powerhouse iFlytek has revealed a $13 million hit to earnings after it was sanctioned by the U.S. over its treatment of Uighur Muslims and other ethnic minorities. The Shenzhen-listed company disclosed the "expense in dealing with the U.S. entity list" on Tuesday night for the first time since it was blacklisted by Washington last October.
Politics and Law
Books recommended by President Xi inspire netizens - Global Times A long list of books recommended by Chinese President Xi Jinping has been trending on Chinese social media on Thursday, the World Book Day, as many netizens liked, shared and commented under the booklist, saying Xi and the books inspired them. The booklist, posted by the People's Daily on its mobile app on Thursday, summarized previous reports by media outlets including the People's Daily, China Central Television and the Xinhua News Agency, in which Xi mentioned or quoted the books in public reports or his speeches in the past.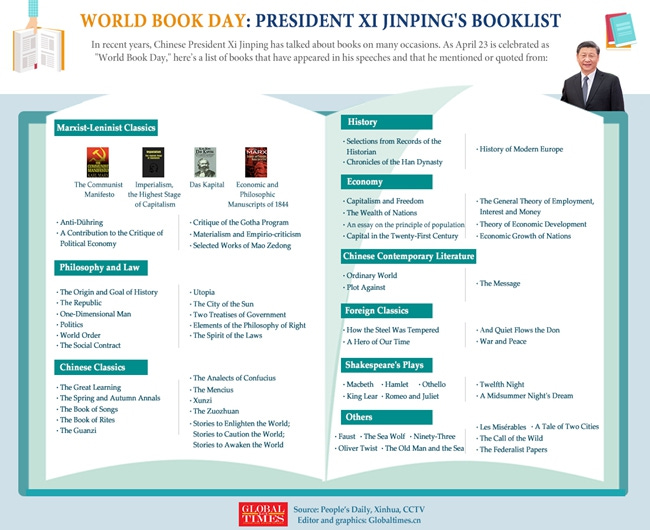 新华社:"2018年度中国好书"揭晓,32种图书入选 CCTV did a big event tonight to announce the best book in China this year,the two on the very top are On Comprehensively Deepending Reform (authored by Xi Jinping), the other 30 Lectures of Xi Jinping Thought on Socialism with Chinese Characteristics for the New Era (by the CCP Propaganda Department).
公安部常务副部长王小洪:严守政治纪律和政治规矩,确保公安特勤队伍绝对忠诚、绝对纯洁、绝对可靠 In a meeting Monday at the Ministry of Public Security Secret Service Bureau, head of the bureau and Vice Minister for Public Security Wang Xiaohong gave stern messages telling the officers to stay "absolute loyal, absolute pure, and absolute reliable" to Xi Jinping and the Party Central, and continue to clean up the "Zhou Yongkang toxic residue". // So is newly fallen MPS vice minister part of Zhou's "toxic residue"?
汪洋出席全国政协委员读书活动启动仪式_CCTV节目官网-CCTV-1_央视网(cctv.com) CCTV Evening News on Wang Yi attending the launch ceremony for the CPPCC's book reading campaign for its members. N0 word in the report on the books in the "CPPCC online learning academy 网上全国政协书院"
在拼搏的青春中成就事业的华章 Qin Rupei, executive deputy chairman of the Guangxi Zhuang Autonomous Region, writes in the latest issue of Red Flag Manuscript about his learnings from studying "Xi Jinping's 7 years as an educated youth". It was clearly moving and heartfelt, leading him to wax fulsomely about the People's Leader// 探寻人民领袖成长足迹的珍贵实录。《习近平的七年知青岁月》用大量真实的历史细节,讲述了青年习近平在梁家河7年间的学习、生活和工作经历。习近平总书记是在老一辈无产阶级革命家培养下、在共和国旗帜下成长起来的党和国家卓越领导人,是从黄土高原农村一线的党支部书记干起、一步步历练成长起来的深受全党全军全国人民爱戴的人民领袖。领袖的成长不是偶然的,陕北七年知青经历是习近平总书记治国理政思想的历史起点。学习此书,我们可以更加深刻、直观地领会习近平新时代中国特色社会主义思想的精髓所在,更加深刻、直观地感受到习近平总书记与人民群众的鱼水深情。
山南市"四讲四爱"群众教育实践活动启动仪式在桑日县举行 边巴扎西出席_高层动态_西藏党员教育网 边巴扎西在与县委宣传部长座谈时强调,今年是决胜全面小康、决战脱贫攻坚之年,也是"四讲四爱"群众教育实践活动的巩固之年。要不断深化、不断创新、不断提高,推动教育实践活动往实里走、往深里走、往心里走。要把学习宣传贯彻习近平新时代中国特色社会主义思想作为首要政治任务,切实筑牢群众思想的"四梁八柱",使习近平总书记党的核心地位、人民领袖地位深深扎根各族人民心中。
Xi returns to his favorite hobby: crushing dissent - Nikkei Asian Review "Two vice ministers of public security have now fallen from power in one and a half years," a veteran party member said, describing the significance. "And to do it now, amid these current circumstances? "It shows that the top leader's interest is not limited to epidemic prevention and the economy. It also shows how difficult it is to take full control of the public security sector." Sun [Lijun] was in charge of a highly sensitive area within the police force. He handled "domestic security," the most important element of public security, and dealt with classified information related to maintaining stability. This is why his background has so far been largely kept under wraps.
李君如:深刻认识疫情防控这次大考(人民要论) Li Junru of the Central Party School wrote on page 9 of People's Daily that China's political system and governance model led by communist party has successfully been through "the major test" of coronavirus and "shown great power" during the test. More importantly, Li said the global outbreak again demonstrates the correctness of Xi's idea about "community of common destiny" and "major change unseen in a century", and that China will continue to make its contribution and strive for a multilateral world of peaceful development.
新华:一个月内9位"70后"干部晋升副部,履历中发现两个特质…… More than 9 officials born after 1970 have been promoted to the vice-minister level in the past month, according to Xinhua. For now, at least 21 provinces already have these "post-70" cadres that are groomed for leadership roles.
吉林省高级人民法院副院长吕洪民接受审查调查————执纪审查——中央纪委国家监委网站 deputy head of the Jilin provincil supreme court Lv Hongmin is under investigation
财新:未成年人涉黑案逐年增长,"两高两部"发文应对 China's supreme court and supreme procuratorate said more minors are joining mafia in recent years and now those who lure them to join will be punished severely. Number of minors sentenced for gang-related crimes has increased from 84 in 2017 to 428 in 2018 and 552 in 2019. The rise may have something to do with China's recent anti-mafia campaign.
Nomads Urge China to Drop Plan to Make Tibetan Schools in Ngaba Teach in Chinese - RFA Tibetan nomads in China's western Sichuan province have appealed to the Chinese government to drop a plan that would make Mandarin Chinese the official language of instruction in Tibetan schools in the Ngaba (in Chinese Ābà) Tibetan Autonomous Prefecture. A delegation of nomads said in a letter Monday to authorities that moving from Tibetan to Chinese as the main medium of instruction would have an "adverse impact on relationships between parents and their children and goes against regional ethnic laws."
Foreign and Defense Affairs
朝鲜官媒披露金正恩近况, 传北京专家医疗团队赴朝 Rumors swirled on the Chinese internet that China has sent a team of top cardiac doctors to Pyongyang to help with treatment of Kim Jong-un. Flight records did show a Air Koryo small An-148 plane left Beijing on Thursday last week and landed in Pyongyang that evening. A version I heard is that a group of doctors from the PLA 301 Hospital in Beijing, lead by ILD head Song Tao, went to Pyongyang, to try to save Kim after an angioplasty surgery went wrong. No idea if true, certainly have been lots of bad NK-related rumors over the years.
Coronavirus: Justin Trudeau confirms China blocking consular visits to detained Canadians, who have been held for 500 days | South China Morning Post Prime Minister Justin Trudeau said on Thursday, on the 500th day of China's controversial detention of two Canadians, that consular visits had been blocked due to a coronavirus lockdown of prisons. "We have been working extremely diligently on the issue of Michael Spavor and Michael Kovrig, who have been detained for 500 days in China," Trudeau told a daily briefing.
The Coronavirus Deepens the Sino-Russian Alliance - Foreign Policy - Alexander Gabuev As Russia and the Central Asian states struggle to contend with the challenges posed by the pandemic, China is becoming even more central to their calculations. Russia may have nearly $600 billion in hard currency reserves, but with the number of infections and deaths from the coronavirus quickly rising and Russia's badly underfunded national health system at risk of being overwhelmed, now is not the time for more chest-thumping and finger-pointing. The stay-at-home orders imposed in most Russian cities risk stoking social unrest not least because the government is reluctant to use all of its financial ammunition right away and roll out generous aid packages. The Kremlin's problems have been compounded by the oil price shock. The Central Asian nations, which lack Russia's vast reserves and with weaker state capacity, are facing even grimmer problems.
海军加强新型作战力量建设持续推进转型 Lead article in PLA Daily on improving PLA Navy combat ability; interesting last paragraph that focuses on officership/leadership instead of platforms/weapon systems—how much experience these young Captains (all appointed by Xi and future Navy/joint leadership, we can assume) are getting out about in blue seas.// 伴随着新型作战力量快速发展的滚滚大潮,一支新型人才方阵正踏浪而来。近年来,海军按照联合作战指挥要求描绘人才培养路线图,让一批批年轻舰艇长、机长到远海战巡、远洋护航、联演联训等一线加钢淬火,90%的主战舰艇长、机长经历了重大任务历练。
China launches second Type 075 amphibious helicopter assault ship | South China Morning Post Celebrations marred by fire damage to sister ship two weeks earlier during fitting out at same shipyard in Shanghai
人民海军成立71周年:强军路上写忠诚 走向深蓝谱新篇Long article by Ma Jianguang, a National University of Defense Technology professor, on the PLA Navy's 71st anniversary 党的十八大以来,习主席对海军建设充满厚望,先后多次视察海军部队,特别是在出席南海海域海上阅兵时发出"努力把人民海军全面建成世界一流海军"的伟大号召。领袖关爱人民海军,人民海军用行动铸就忠诚。人民海军用71年的航程生动证明了自己是在大是大非面前立场坚定、在重大政治考验中旗帜鲜明的武装力量,生动践行着人民海军忠于党,舰行万里不迷航的忠诚信念。
Thailand puts Chinese submarine order on hold to fund coronavirus fight | South China Morning Post Thailand will suspend some arms purchases, including orders for two Chinese submarines, as it cuts its military budget to fund the fight against the coronavirus pandemic. Other buys facing the axe are two South Korean jet trainers and military hardware from China and the United States.
Satellite imagery, AIS, and the Ships Secretly Transporting Iranian Gas to China — C4ADS In November 2019, at least two VLGCs (very large gas carriers, ships that carry between 50,000 and 80,000 cubic meters of gas) visited an export terminal in Asaluyeh, Iran, an industrial town on the southwestern coast of the country, to load up on liquified petroleum gas (LPG), in violation of US economic sanctions on petroleum and petroleum-related products from Iran, in force since November 2018. After loading in Iran, these ships crossed the Indian Ocean, passed the Strait of Malacca, and arrived at import facilities at several locations in China. Thanks to commercially available satellite imagery, automatic identification system (AIS) data, and other publicly available information, C4ADS can offer insights into this illicit trade, detail how it is conducted, and even identify some of the likely players involved.
Operation Purple Maze - The Wire China What happens when U.S. efforts to protect its agricultural prowess and China's quest to eliminate its food insecurity meet head-on in the cornfields of Iowa? BY
东部战区海军航空兵某部常态化组织海上险难课目训练_军事频道_央视网(cctv.com)
A normalized organization of naval aviation in the eastern theater of naval aviation training // 今年开训以来,该团紧贴实战要求常态化组织海上低空、特情处置等险难课目训练,多次执行陌生海域、复杂气象条件下的飞行任务。为使训练环境更加贴近实战,他们还主动与友邻的防空、舰艇、预警等部队协调,围绕战术课题开展联演联训,不断完善战术战法。
Hong Kong and Macao
The End of Hong Kong's Third Way 再無中間路線 – China Heritage - Lee Yee 李怡 These days, Hong Kong people are very much of a mind when it comes to protecting the value of freedom and the rule of law in Hong Kong. It is the same when it comes to the view of both authoritarianism here and totalitarianism in China itself. As the Communist authorities have directed the local authorities to arrest men and women such as these — remember, they have consistently been the most mild advocates of democratic norms in the territory — that have, in effect, wiped out what remained of a middle ground. Now the only choices open to Hong Kong people are: align yourself with a totalitarian regime or rise up to resist and oppose it. There simply is no Third Way.
Taiwan
No, Taiwan's President Isn't 'Pro-Independence' – The Diplomat - Lev Nachman and Brian Hioe As Taiwan enjoys the global spotlight thanks to President Tsai Ing-wen and the Democratic Progressive Party's response to the COVID-19 pandemic, many of the articles that have praised their public health efforts have described their political platform as "pro-independence." This piece of journalistic shorthand, however, isn't just an oversimplification: It's a factual inaccuracy that falsely portrays Taiwan and its leaders as provocateurs out to "anger" China. To report on the situation accurately and truthfully, that trope must be challenged and left behind.
不只磐石艦 海軍:康定艦航程有一人曾發燒 President Tsai apologizes for sick Taiwan Navy sailors. Makes one wonder again how it's possible 0 PLA Soldiers were infected, despite being in Wuhan medical facilities. 海軍敦睦艦隊(磐石艦、岳飛艦、康定艦)28名成員確診武漢肺炎,其中磐石艦5成員曾有發燒紀錄;海軍副司令梅家樹中將今天更新最新數據,航行期間,康定艦1人發燒、岳飛艦2人看診。
Tech and Media
BBC Studios Sets Content Deal With China's Xigua Video – Variety BBC Studios, the content arm of the British Broadcasting Corporation, said that it has struck a multi-genre partnership with Xigua Video. The company is a unit of fast-growing Chinese tech firm Bytedance, and in the same group as global social video phenomenon TikTok.
Pinduduo's Strategic Investment in Gome Heats Up Retail Competition in China - PingWest "From Pinduduo's point of view, investing in and having such as strategic with Gome will help them matching up with Alibaba and JD.com in China's appliance and electronics retails market. On the other hand, Pinduduo's strong reputation for catering to budget users match Gome's growth strategy of the active penetration into lower tier markets." Zhang Jing, an analyst at Suning Financial Institute told PingWest.
MIT Cuts Ties With a Chinese AI Firm Amid Human Rights Concerns | WIRED The university canceled the relationship in February after reviewing an upcoming project under tightened guidelines governing funding from companies in China, Russia, and Saudi Arabia. MIT has not said why it terminated the iFlytek collaboration or disclosed details about the project that prompted the review, but it has faced pushback from some students and staff about the arrangement since it began two years ago.
Society, Arts, Sports, Culture and History
'Your mom is dead': The origins of the Chinese internet slang NMSL - SupChina - Tianyu M. Fang - t started in 2015 with Sūn Xiàochuān 孙笑川, a Sichuanese construction worker who livestreamed League of Legends games on a channel belonging to his friend, Lǐ Gàn 李赣. Sun wasn't a particularly good gamer, and sometimes he appeared dull on screen. When viewers on the streaming platform Dòuyú 斗鱼 criticized him, Sun snapped back with the most aggressive insults. But his curses consistently followed humorous, surprising, and unusual patterns, mixed with Sichuanese slang. Ni ma sile — "Your mom's dead" — he once famously said to his viewers. "I'm your brother. We're both your mom's son. Your mom's dead, OK?"
Energy, Environment, Science and Health
Infant's Death Raises Concerns Over Online Parenting Platforms - SixthTone Authorities in Shanghai are investigating the death of a 3-month-old child. According to a report Wednesday in Sixth Tone's sister publication The Paper, the infant's death may have resulted from a sleeping technique promoted in an online parenting group
Education
Coronavirus: US education faces US$15 billion hit as Chinese students stay away | South China Morning Post China has remained the largest source of international students for the US in the past decade, with 369,548 Chinese students enrolled in US higher education programmes in 2018, more than three times the count from nine years earlier, according to the Institute of International Education. The group together contributed US$15 billion in tuition payments.
Rural and Agricultural Issues
China to test horses in border areas for African horse sickness - Reuters The disease, highly infectious and deadly to horses, has a relatively high risk of reaching China, with the insects that carry it already present in the country, said the ministry